Handcrafted Fingerless Gloves and Mittens
Posted by admin on
Now that winter is here, our inner DIY lover has kicked things into high gear trying to think of all the ways in which we can make things that will help us stay warm. Being a chilly person in a place that gets so cold for parts of the year isnt easy! In fact, sometimes we even feel too cold in our office while were typing, rubbing our hands together to war our fingers back up between paragraphs. We started thinking recently about how great it would be to have a pair of fingerless mittens or gloves in our desk drawer so we could keep a little warmer while still working, and now were feeling determined to make some this winter!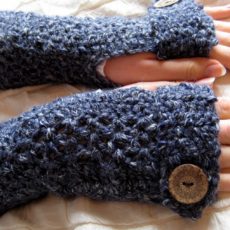 Are you feeling just as enamoured as we were, if not more, by the idea of making your very own DIY fingerless mittens and gloves for the season? Check out these fantastic ideas, designs, and tutorials that weve come across so far in our search!
1. Sweater to fingerless gloves
Have you got an old sweater that youve always found nice and soft and liked the colour of but you dont like the way it fits anymore so you havent really been wearing it? Then perhaps it would serve you better in another form, rather than just sitting in your closet! Wed suggest taking a look at howMake It Handmade turned the sleeves of their old sweater into a pair of folded back fingerless mitts.
2. Crocheted autumn leaves fingerless mittens
Are you a crochet enthusiast with quite a lot of experience under your belt, so creating things with texture and a small yarn weight doesnt scare you? Then you just might be the perfect person to give these stunningly textured autumn leaf inspired fingerless mitts outlined in awesome detail onBag-O-Day Crochet a try!
3. Quick and easy Elizabeth stitch fingerless gloves
Have we really caught your attention now that were talking about crochet patterns but youre much closer to the beginners side of things, so youre going to need a much simpler pattern even though youd still like to include some texture? In that case, we think you simplymust take a look at this quick and easy Elizabeth Stitch fingerless mitts pattern featured onDabbles & Babbles!
4. Easy textured fingerless gloves with buttons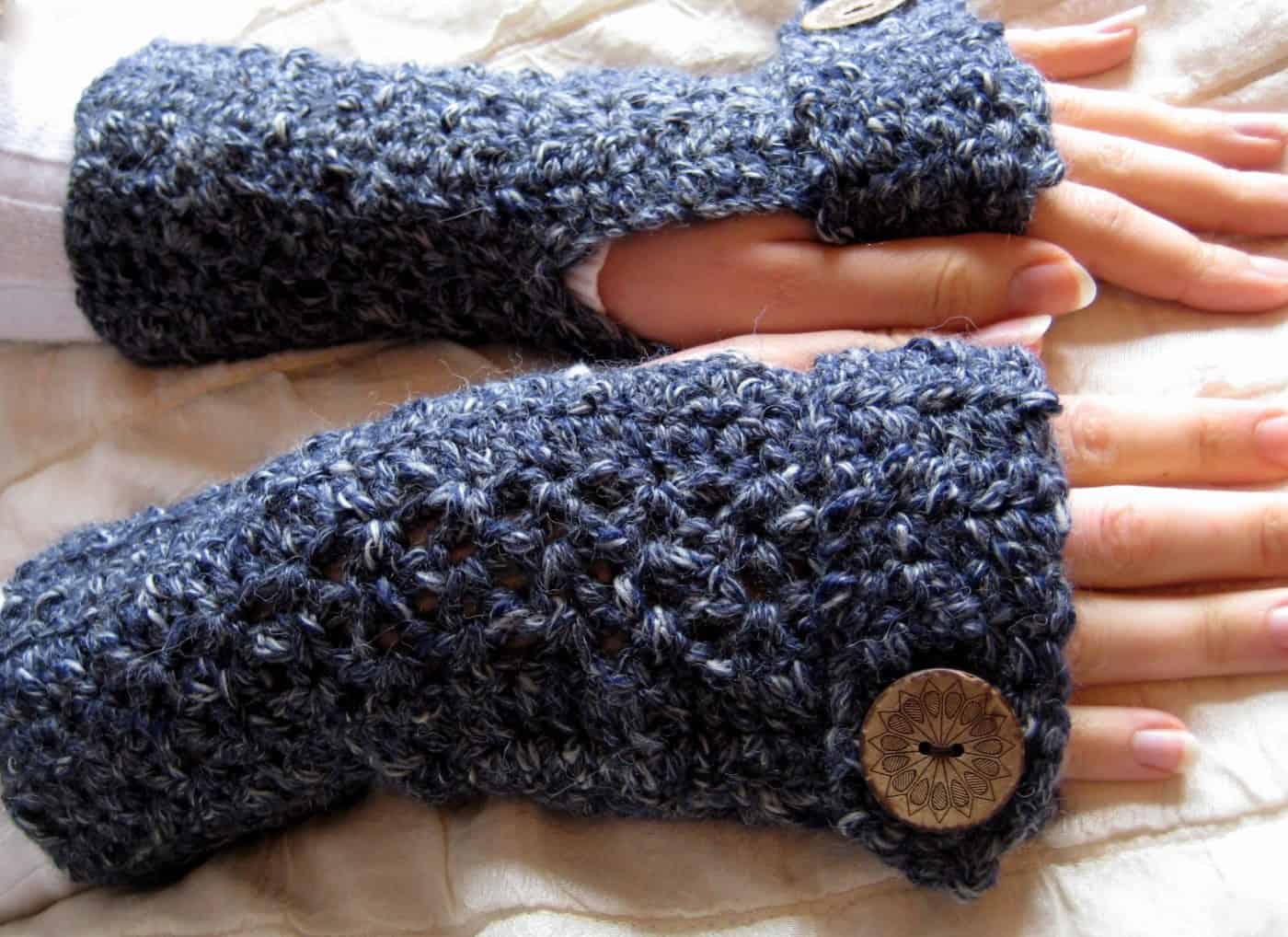 Just in case youre still totally feeling the whole simple, textured crocheted mitt thing but youre also intrigued by the idea of embellishing a few extra details, heres another pattern for your consideration! We love the wayMake My Day Creative not only guides you step by step through the process of crocheting these fingerless gloves, but also gives you all the instructions you need to add buttons near the top.
5. Little Owl crochet fingerless mittens
Has your favourite part of learning to crochet always been how simple it is to swap colours, make shapes, and give your projects some funny, kitschy detail? In that case, weddefinitely encourage you to check out this adorable little owl inspired fingerless mitten pattern thatThe Green Dragonfly has all the details for!
6. Foxy fingerless gloves for fall
Are you actually totally in love with the basic concept of making a pair of yarn mittens that feature some kind of animal on them, but youre much more of a knitter than a crocheter? In that case, we think youll be rather pleased indeed to come across this adorable Foxy pattern from One Dog Woof that actually guides you, stitch by stitch, through the process of knitting a little fox right into the back of each mitt!
7. Celtic weave fingerless mittens
Just in case youre still caught up in thoughts of crochet patterns and texture but youre actually hoping for something that looks a little more intricate without being too hard, heres an awesome pattern fromOver The Apple Tree that gives you precisely what you need! Take a better look at their tutorial to see how these Celtic Weave fingerless mitts were made.
8. Pretty button cuff fingerless gloves
Have we actually still got you thinking about the concept of making a cut fingerless mitt with a button using your crochet skills but youre not sure the placement of the button in the last design we showed you is quite the one for you? Then heres a pretty alternative for your consideration! Check out howRescued Paw Designs placed their button down by the cuff instead.
9. Stripy Mitts with button sides
Maybe the issue for you, rather than just the placement of the buttons, was the fact that there werent actuallyenough buttons for your liking? In that case, we think youll get a real kick out of this crocheted fingerless mitt pattern fromSandra Paul that features cute, colourful little buttons all the way down the side! Were also obsessed with their beautifully bright striping pattern, which is actually easier to do than it looks.
10. Dainty bow crochet fingerless mitts and arm warmers
Has your primary issue with some of the crocheted mitt patterns youve seen so far actually been that you think theyre a little too short and you already know that the space between your mitt and your sleeve will still be cold while you type? Then wed be willing to bet that youll get along much better crocheting yourself something like these much longer hand and arm warmers featured in detail onWhistle & Ivy! We love that their pattern even shows you how to crochet and attach a bright little bow.
11. Pretty, short crochet fingerless gloves
Perhaps short crocheted fingerless gloves are precisely the kind youre looking for, and you even like the idea of placing a button at the wrist, but youre just not feeling convinced by what youve seen so far? Then perhaps youd prefer a design that also shows you how to make a simple wrist strap, so your buttons look like they have purpose! Wed suggest checkin out this lovely pattern fromMoogly.
12. Arrow Tail fingerless gloves with fringe
If yure going to put in all the time and effort it takes to make your very own pair of fingerless mittens from scratch, especially if youre opting to crochet them by hand, would you much rather make them with as much flare and personality as such a garment can muster? Then were pretty sure this design fromMake My Day Creative was made for you! Take a better look at their Arrow Tail pattern to see how they made the fingerless mitts and added the super fun fringe.
13. Puff stitch fingerless gloves
Are you feeling quite set indeed on the idea of crocheting a short pair of fingerless mitts with buttons but youre still considering your options when it comes to texture and stitch options because you really want to consider every detail and choose what you like best? In that case, wed like to present another pattern for your consideration! Take a better look atHopeful Honey to see how this Puff Stitch fingerless mitt design was made.
14. Hemlock Mitts knitted pattern
Are you actually still scrolling through our list in hopes of finding yourself a fingerless glove knitting pattern because you really do prefer knitting to crochet, but you just havent seen a pattern yet that has you feeling convinced? Well, if youre slightly more advanced and youd like to see something with a little more stitch detail to it, then weddefinitely suggest taking a look at howLove Crafts made this lovely Hemlock set that has a twisted cable pattern across the back fo the hand!
15. Granny Square fingerless mitts and arm warmers
Did we actually really catch your attention when we started talking about the idea of longer arm warmers, rather than just short hand warmers, but youre the kind of old fashioned crochet enthusiast who much prefers using things like granny square techniques to put your garments together? Then we think youll be rather pleased indeed to come across this tutorial featured onWhistle & Ivy that gives you precisely what youre looking for!
Do you have another favourite fingerless mitten or glove type of pattern that youve made before and been really happy with but that you dont see here on our list? Tell us all about how its done or link us to photos of your finished work in the comments section!
The post Handcrafted Fingerless Gloves and Mittens appeared first on DIYs.com.
Related Posts
---
Share this post
---
---