Art + Food + Allapattah: A visit to Rubell Museum and LEKU
Posted by admin on
Allapattah is a diverse Miami neighborhood rich with history and home to the impressive Rubell Museum and its upscale restaurant, LEKU.
The name, Allapattah, is derived from the Seminole Indian language word meaning alligator. Still evolving as a destination, Allapattah boasts a thriving textiles market, with several garment manufacturing and wholesale outlets from Latin America and the Caribbean makers. The Produce Market, the largest open-air food distribution center in Miami, serves local supermarkets and bodegas with the freshest variety of South Florida produce, tropical fruits, and many other products.
The popular Hometown BBQ, with its huge smokers and grills opened on a corner of the Produce Market in 2019.
But it is the Rubell Museum and now the adjacent Superblue art galleries that have signaled a new burgeoning art community in the making.
If you have not been to the museum, it is a must. Opened in 2019, the 100,000 square foot museum is the collection of Mera and Don Rubell, who over the years have amassed over 8,000 works of art, both from emerging artists and well-known artists like Keith Haring, Murakami and Basquiat. On our recent visit, the installation work of Yayoi Kusama was featured.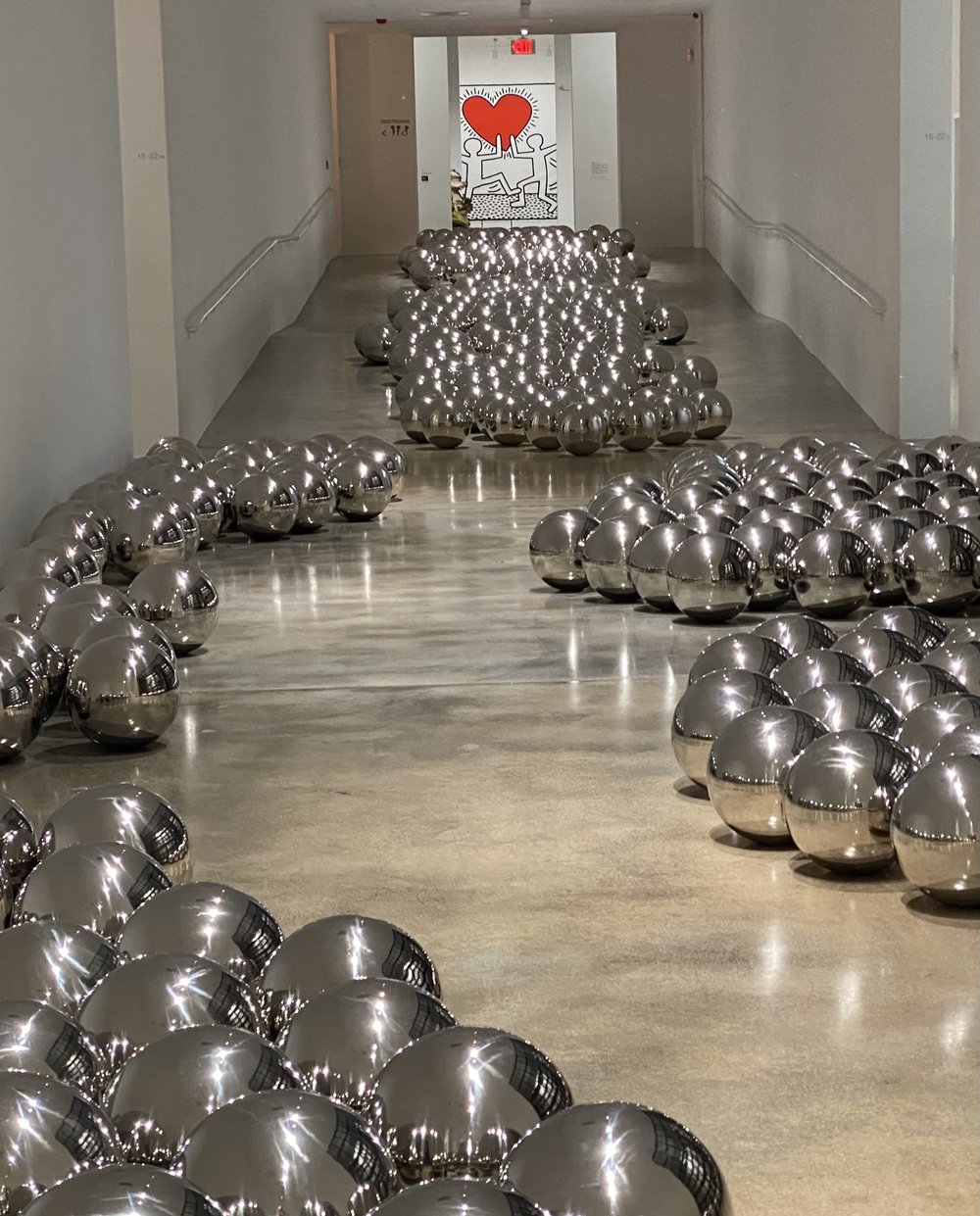 The Artists In Residence exhibits offer a compelling look into the art world and focus on many of today's socio-economic issues. Of particular note was the mesmerizing art of Ghanan artist, Otis Kwame Kye Quaicoe.
A couple of hours in the museum is the perfect "appetizer" to the equally inspiring menu at LEKU.
LEKU brings the pleasures of eating in Spain's enchanting Côte Basque region, featuring innovative cuisine without losing sight of its Basque roots. The menu created by Executive Chef Mikel Goikolea and Sous Esteban Martinez Lamas is designed to highlight seasonal local ingredients and simplistic cooking methods. LEKU's all-day lunch and dinner menus will please guests with full-flavored, fresh, seasonal offerings served in a lush garden-like indoor and outdoor setting, with the impressive Basque outdoor wood-fired double Josper grill.
The Josper, a 700+ degree outdoor grill is the focus of many of the dishes and any opportunity to choose an item cooked on the Josper is highly recommended.
On a recent Saturday, we ventured into Allapattah for an hour+ at the Rubell, followed by a dinner reservations at LEKU. On Friday and Saturdays, the museum is open until 7:30, so we perfectly timed our dinner to coincide with the completion of our museum visit.
Seating is open air, whether you are in the garden or just inside in the main dining room or bar.
While we ordered a la carte, the Chef Tasting Menu of 11 courses looked very tempting and will be our choice for our next trip.
The "Not to Miss" dishes we ordered include:
The Trio of Croquetas- 5 croquetas of ham, chorizo and cod.
Wild Mushroom Rice- smoky risotto-like rice and cooked on the Josper
Whole Branzino- Fileted in a light bilbaina garlic and olive oil sauce
Octopus Carpaccio- a colorful thinly sliced octopus with fresh tartar sauce and fried capers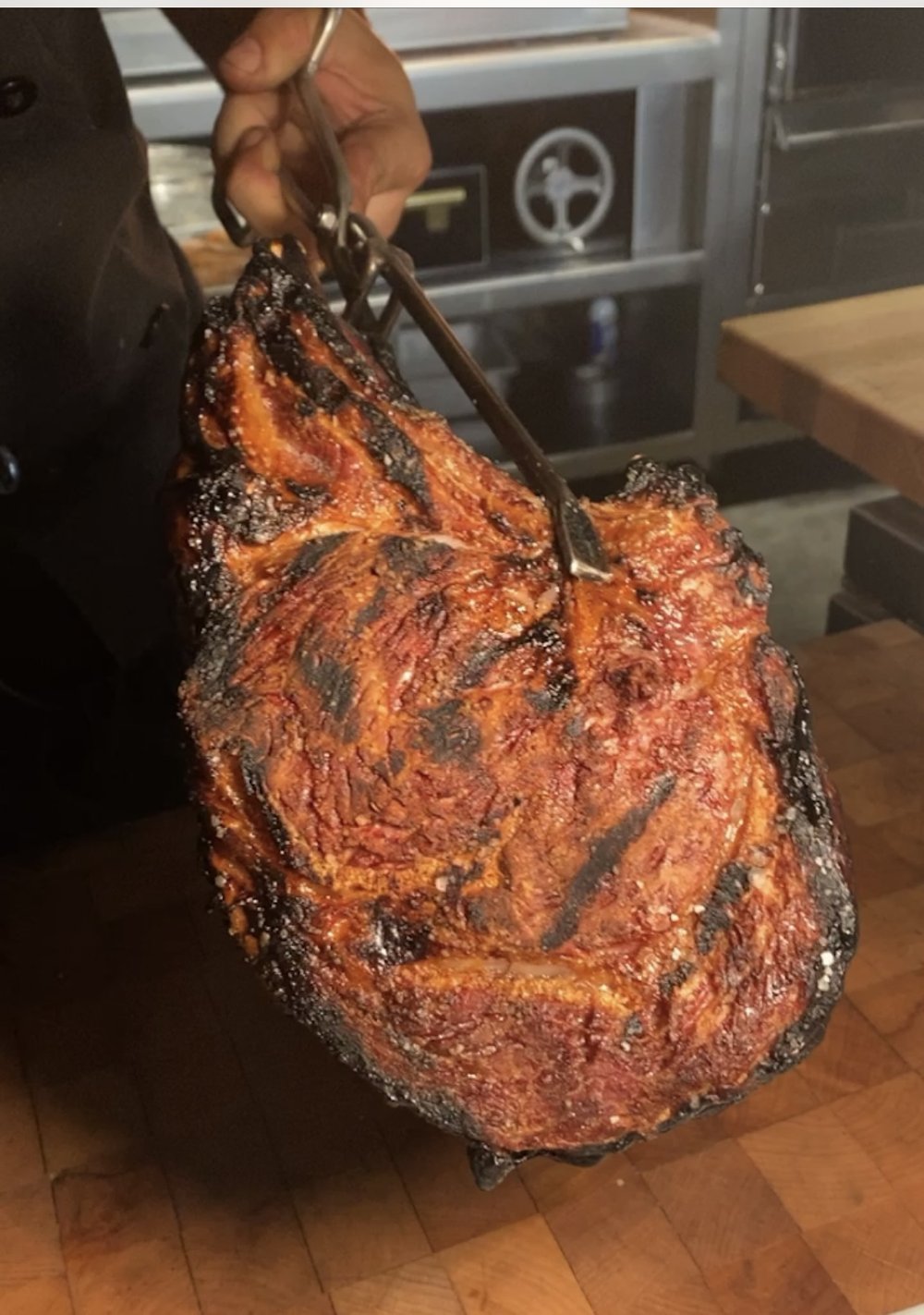 Ribeye-50 dry-aged Black Angus bone in ribeye grilled on the Josper (Ask your server to give you a "tour" of the outside Josper grill area)
Rack of Lamb- Slow cooked rack of lamb au jus was tender and flavorful
For dessert the smoked ice milk with beet sauce is a surprisingly sweet and a refreshing end to a delicious and creative meal.
1100 NW 23rd St.
Miami, FL 33127
Hours:
Wed & Thur: 11:30 am - 5:30 pm
Fri & Sat: 11:30 am - 7:30 pm
Sun: 11:30 am - 5:30 pm
Hours:
Tuesday- Dinner: 6:00pm - 10:00pm
Wednesday - Sunday
Lunch 12:00pm - 3:00pm
Dinner 6:00pm - 11:00pm
Related Posts
---
Share this post
---
---