AO Review: Bond Arms Rawhide & Stinger – 22s That Aren't So Rough
Posted by admin on
Bond Arms – of Granbury, Texas – always manages to expand their selection of eye-catching derringers every year. About a year ago, I reported on the new, skinny Stinger model, then in 9mm and 380. In late 2022/early 2023, the Bond factory released two new guns, both chambered in 22LR; the caliber most everyone loves to shoot. I had the good fortune to test both at home as well as on the indoor range of Texas Star, a shop located in Grapevine, Texas. Here's how it went with the Bond Arms Rawhide and Stinger.
Bond Arms Stinger 22LR Rough Series (RS):  The familiar Bond Arms Mama Bear profile is repeated here, as it was with the 9mm and 380 Stingers, but this time in 22LR and with a rough-out stainless steel finish. Plans for continued production of the super-lightweight Stingers were stymied in early/mid 2022 by a veritable drought where aluminum is concerned. Bond Arms' aluminum supplier went out of business abruptly, leaving the company with plans to produce this new 22 but no material to work with. No problem, the dearth of aluminum led to the birth of the steel-framed Stinger. The Rough Series version has a frame that's not undergone bead-blasting as a polishing process. The result is a gun that's less obtrusive in size, weight, and appearance, not to mention comparatively economical as production cost and finishing times are reduced. The dull finish of Rough Series (RS) guns offers what I think is an attractive contrast to the polished barrel, cross-bolt safety buttons, and barrel release.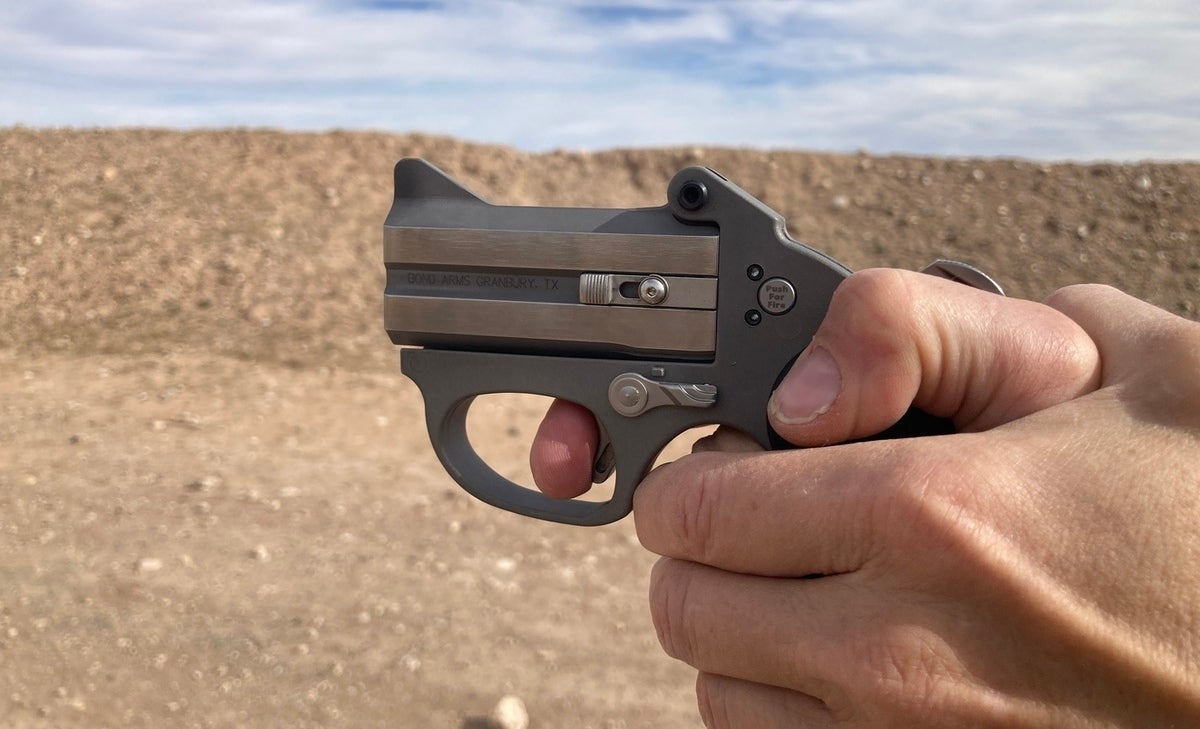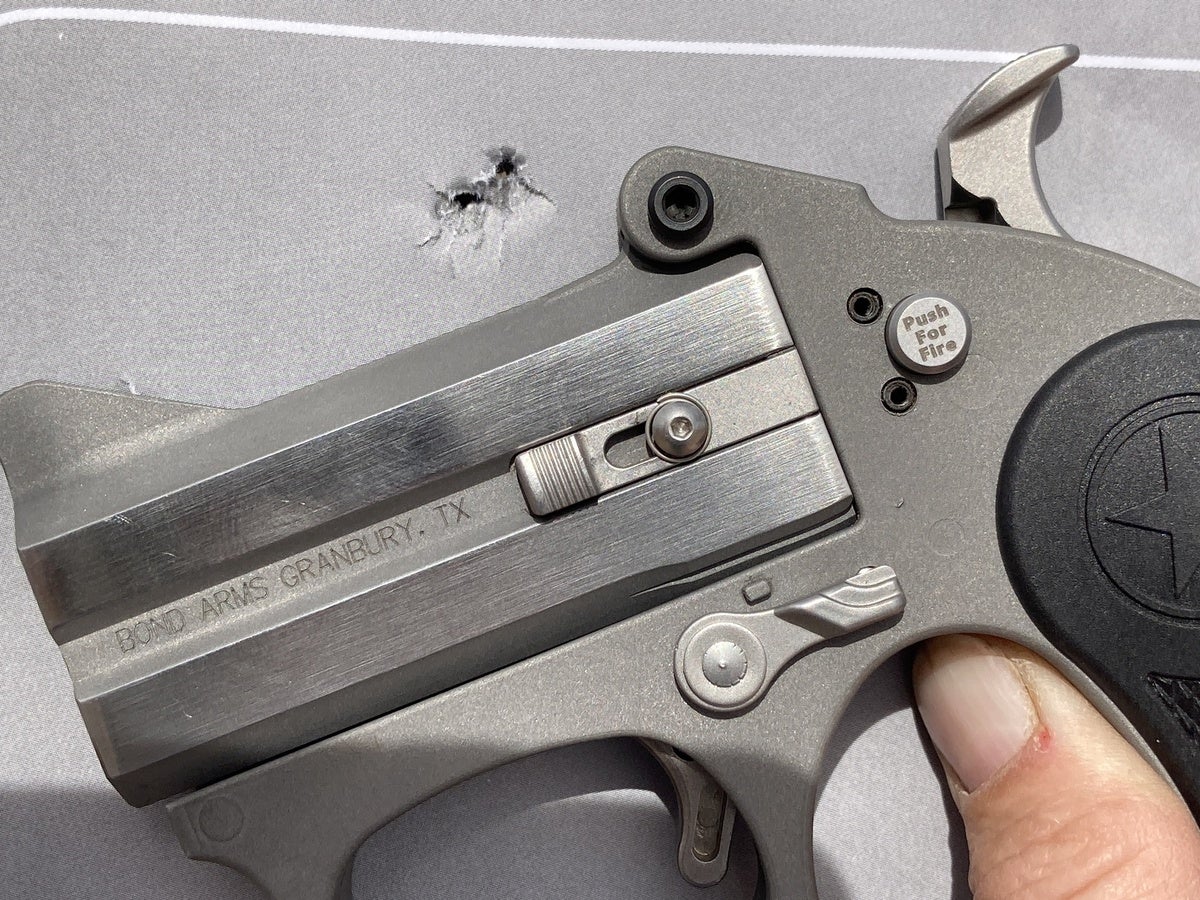 Shooting the Stinger 22LR RS is as sweet as it gets. There's virtually no recoil from the two rounds it fires from a three-inch barrel. It's only 18 ounces in weight, five inches long overall, and slim. Fatigue isn't a factor for me with this gun as it can be with fatter, higher-caliber Bonds. I even found myself enjoying the process of experimenting with various points of aim at five yards to determine the hold-over for the second, bottom barrel, and got a cheap thrill out of putting two rounds in one hole twice during the process. While that's nothing for most people with a single-barrel gun, it dues require a bit of study with a double. The Stinger 22LR Rough Series has a $269 MSRP.
Bond Arms Rawhide Rough Series (RS) 22LR:  The Bond Arms Rawhide shares the same basic profile and finish as the Stinger 22LR RS, but there are several differences. The Rawhide sports a shorter, 2.5-inch barrel, and is thus half an inch shorter overall at 4.5 inches. The trigger guard was dropped from the model, a popular request from many derringer fans. And it's chunkier and more reminiscent of the classic Bond Arms Mama Bear profile, weighing in at 21 ounces.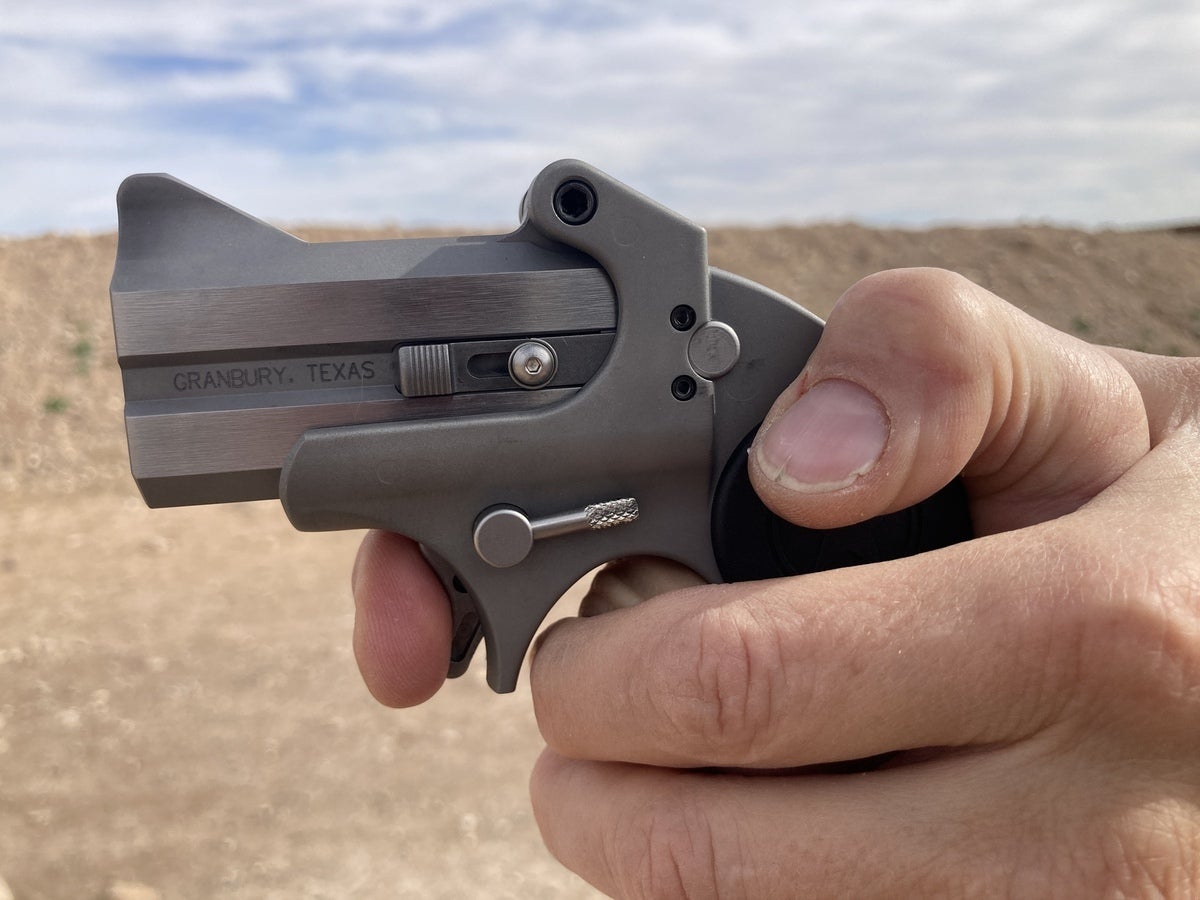 Of course it's enjoyable to shoot, but of the two, my favorite is the Stinger, simply because I fatigue slower with a lighter gun and there's no benefit that I perceive from the additional weight with 22 ammunition. I also found myself struggling a bit to maintain sight alignment as the thicker barrel hinge makes the top of the barrel, and its matching front sight, a bit too camouflaged for my liking. And if it's going to be carried for self-protection, a lighter, thinner gun is generally easier. The Bond Arms Rawhide Rough Series 22LR has an MSRP of $269.
Both guns worked flawlessly with the 22 LR CCI Mini-Mag ammo we ran on this test. It is not advisable to run 22 short ammunition in these guns, by the way. At the gun writer's event at Texas Star where I first met the new Bonds, a couple people had the question of whether a 22 WMR version is in the works. Probably not, came the answer from Bond Arms owner and designer Gordon Bond. The tricky ballistics of that cartridge don't contribute to reliable function in a derringer.
On the home range trials, these guns continued to impress. The aluminum case extractors worked well without ever gumming up, something that's bound to happen sooner or later with 22 ammo but the CCI ran quite clean in these guns. The spring-loaded, cammed locking levers on both guns work well and are the same every time.
A fun fact we writers learned shooting these 22s indoors is that they make a muzzle blast that surprises. It made for some great photographs, one of which became the topic for an online "guess the caliber" game Gordon Bond put his followers up to on Facebook. It was entertaining to watch the responses, which most started with "4," and know that we were only looking at a little rimfire.
In the past, I've found Bond Arms guns a little tricky in terms of remembering that the trigger operates by moving downward more so than rearward, at least that's how they feel to me. But every Stinger I've tried, as well as this new Bond Arms Rawhide RS, have a more traditional feel to the trigger pull. It still angles downward somewhat, but the familiar straight-back pull will effect a "bang."
At the same time I was testing these guns, I also had a pair of concealed carry leggings on hand for review. The gun pocket is quite small, and I was thankful to have a Stinger on hand as it makes a perfect fit for that garment, and the draw was easier to perform with it than with a Glock 42. These two 22s can put a smile on pretty much anyone's face. They sure do that for me. I've tried a good number of Bond Arms' guns. Some impress with power in a small package. These are just a joy.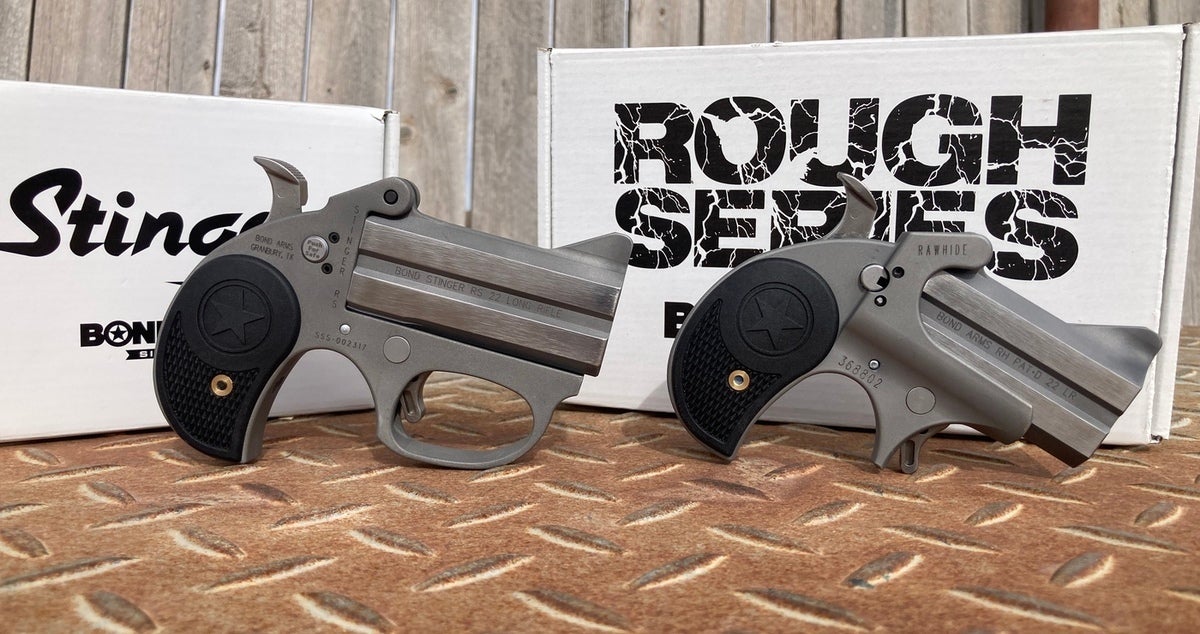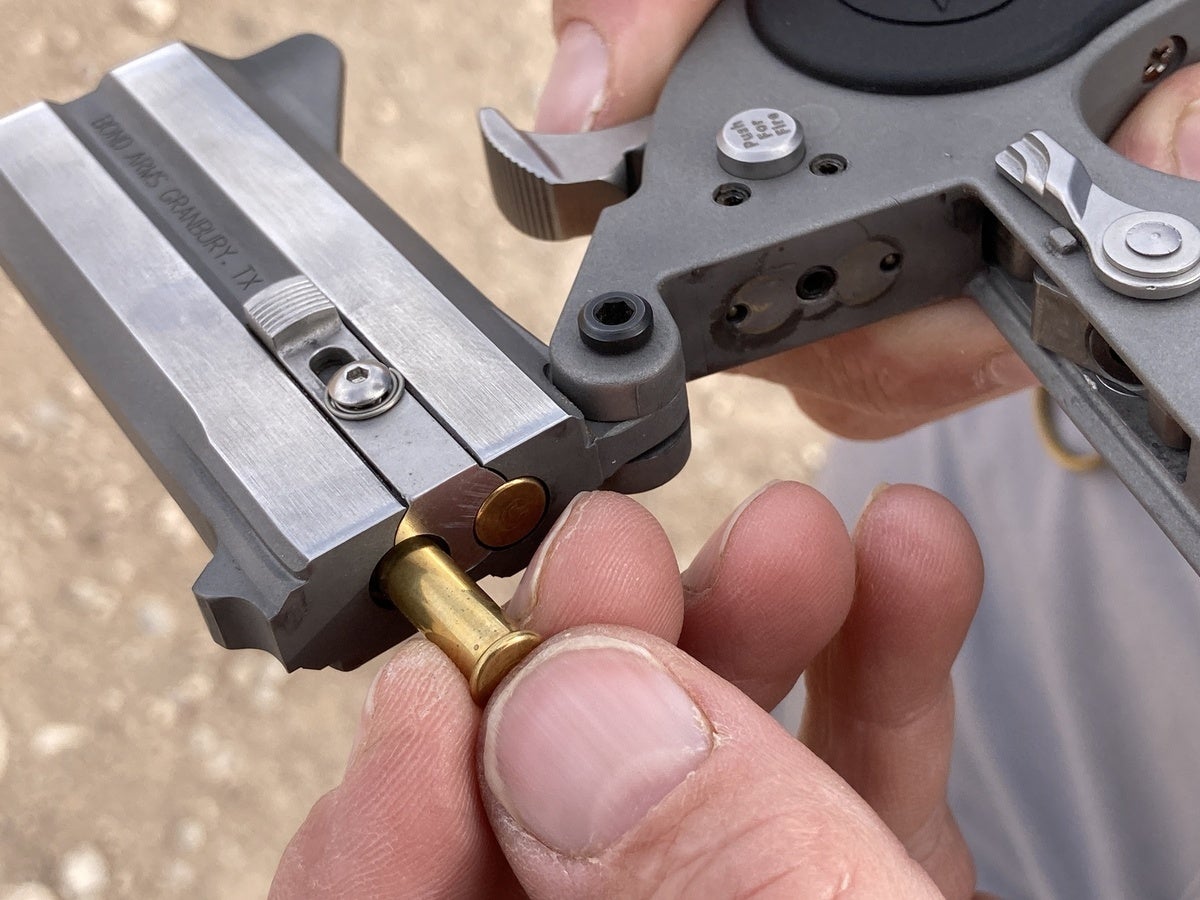 The post AO Review: Bond Arms Rawhide & Stinger – 22s That Aren't So Rough appeared first on AllOutdoor.com.
Related Posts
---
Share this post
---
---