ALDI Finds week of 5/11/22: Plant your garden, enjoy some cheesecake
Posted by admin on
ALDI Finds for the week of 5/11/22 include spring plants, gluten free cheesecake, elote style corn, and more. Check them out below, and let me know what you want to Find this week.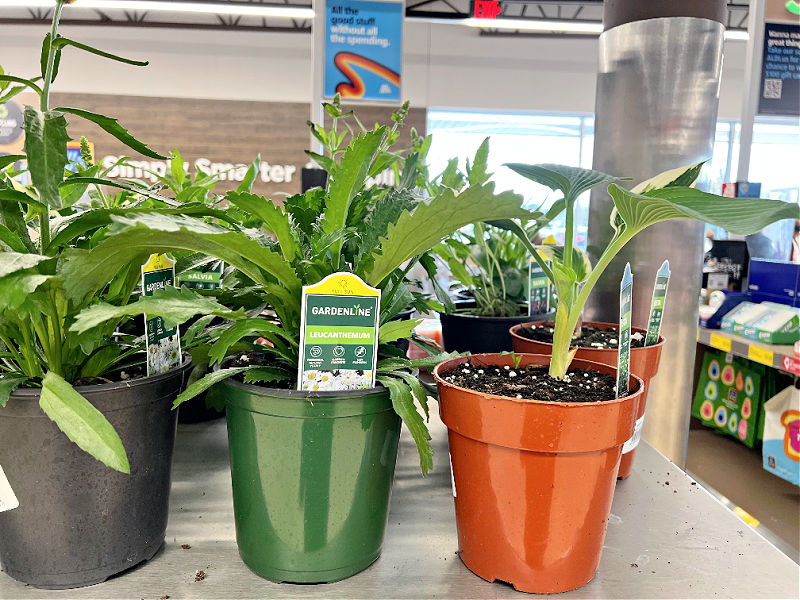 Let's start with garden and outdoor items in our ALDI Finds roundup today, because it's going to be 90 degrees here in Chicago, and I'm feeling like planting. Assorted spring perennials (shown above) will run you $6.49 each this week…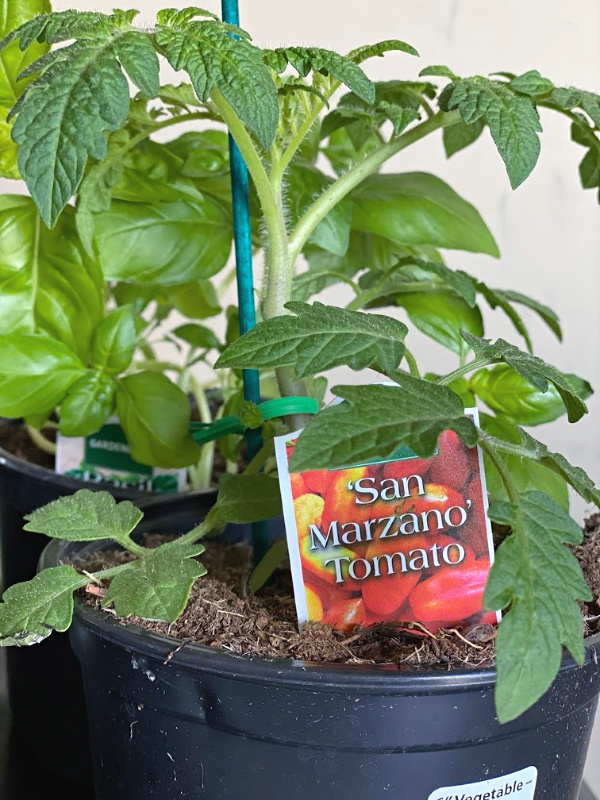 And, 6″ veggie and herb plants are now up to $3.29 apiece. The tomatoes, peppers, and herbs I got from ALDI last year did quite well throughout the summer, and I'm planning to pick up more this year. Other outdoor Finds of the week include:
Summer premium patio planter, $12.99
Range Master barbecue caddy, $14.99
Gardenline flexible downspout extender, $7.99
Belavi 4'x6′ landscape turf rug, $29.99
Belavi wooden potting bench, $69.99
Gardenline tomato cage (the basic wire ones this time), $2.99
Gardenline walk-in greenhouse, $49.99
Gardenline garden clogs, $9.99
Gardenline pop-up garden bag, $12.99
Gardenline 4-pack plant supports, $4.99
Belavi seat pad, $9.99
Belavi garden bench cushion, $19.99
Belavi chair cushion, $19.99
Ferrex 20V cordless pole saw, $79.99
There are such pretty floral outdoor chair pad and cushion options in this ad, if your patio needs a refresh.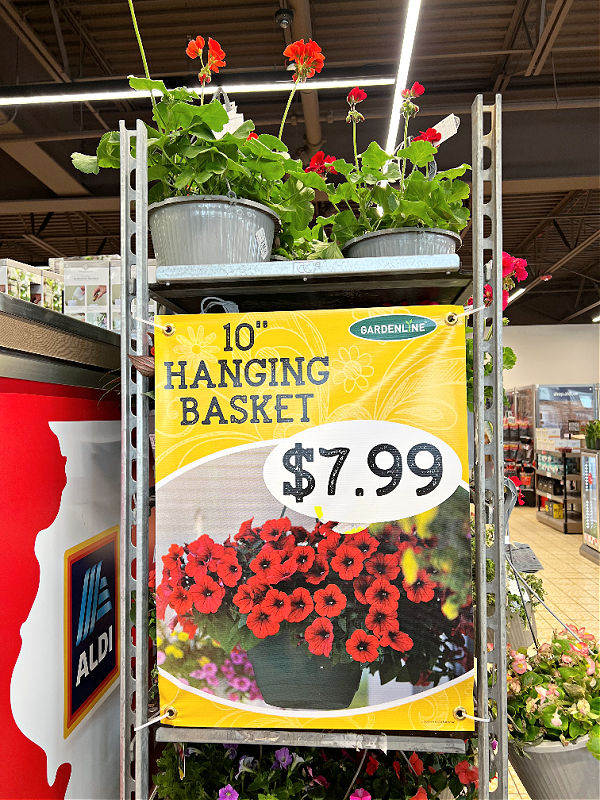 Also on the patio front: While hanging baskets were actually listed in last week's ad at $7.99, my stores had only a few sad, dead, & unwatered ones in stock. They did, however, just restock with new beautiful baskets this week, so keep looking for those.
Note that both advertised and unadvertised ALDI prices can vary by store and by region. Now, let's talk about the rest of the top ALDI Finds for the week of 5/11/22, as well as some new seasonal Finds for spring and summer 2022. You'll also Find some on 5/8/22 in Sunday ad markets, or if your store tends to put products out early.
Top ALDI Finds of the week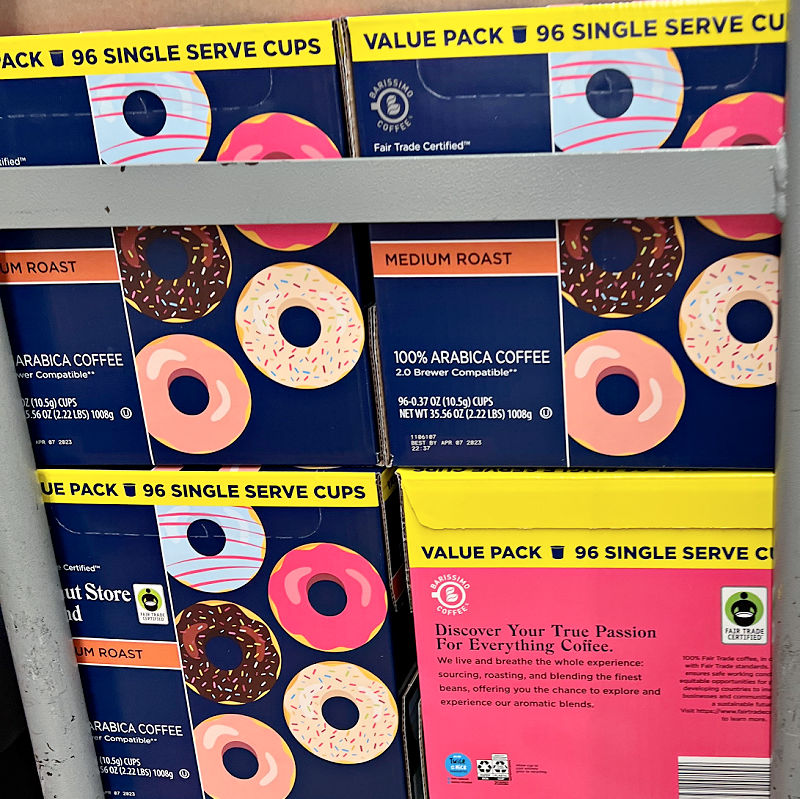 ALDI has 96 ct Barissimo bulk Donut Store coffee cups on sale for $24.89 this week, which works out to $.26 per cup.
This is a decent price, but if you miss the sale or want more varieties, you can generally get similar per-cup bulk pricing on Amazon brand coffee cups or on Maxwell House K-Cups (plus free shipping) with subscribe & save. Hey, we're "almost" all ALDI around here — I do love ALDI, but we sometimes do have other good options. 🙂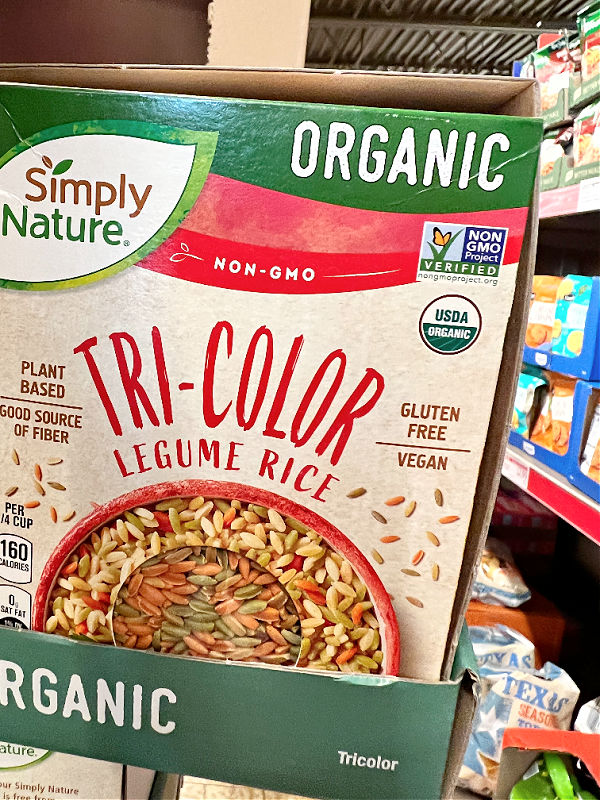 I also saw this interesting looking organic/gluten free legume rice on a cart to be shelved at my store yesterday. It didn't yet have a shelf tag, so since it's not in the ad, I'm not sure if this is a weekly Find or a new seasonal product.
Here are fifteen more top food Finds (and a couple corn-y food Finds), plus thirty more non-Food Finds, all for the week of 5/11/22. Then, a few more seasonal Finds for you!
Top 15 food Finds this week
Several new grilling items this week, and so much more. Food Finds in the latest ad include:
12 oz Wahlburgers uncured beef hot dogs, $4.99
Belmont cookies & cream dessert bars, $4.49
Beyond Meat 8 pack cookout classic plant-based patties, $15.38
Bremer homestyle beef or chicken & dumplings skillet, $4.49
Fremont Fish Market marinated butterfly shrimp 12 oz, $6.49
Kirkwood 48 oz family sized chicken breast nuggets, $5.99
Mama Cozzi's stuffed crust buffalo style chicken pizza, $6.49
Mama Cozzi's spicy thin crust pizza, $4.29
Mama Cozzi's Italian sausage or spinach asiago toasted ravioli, $3.99
My/Mochi in banana chocolate cream, horchata, or s'mores, $4.88
Party pack 6 lb quarter lb beef patties, $14.99
Season's Choice country style fries, $2.19
32 oz liveGfree gluten free cheesecake sampler, $9.69
Never Any fresh butterflied lamb leg, $7.99/lb
Utz pub mix barrel, $5.48
I don't think I've ever seen boxes of frozen Beyond Meat patties like this before; that's new.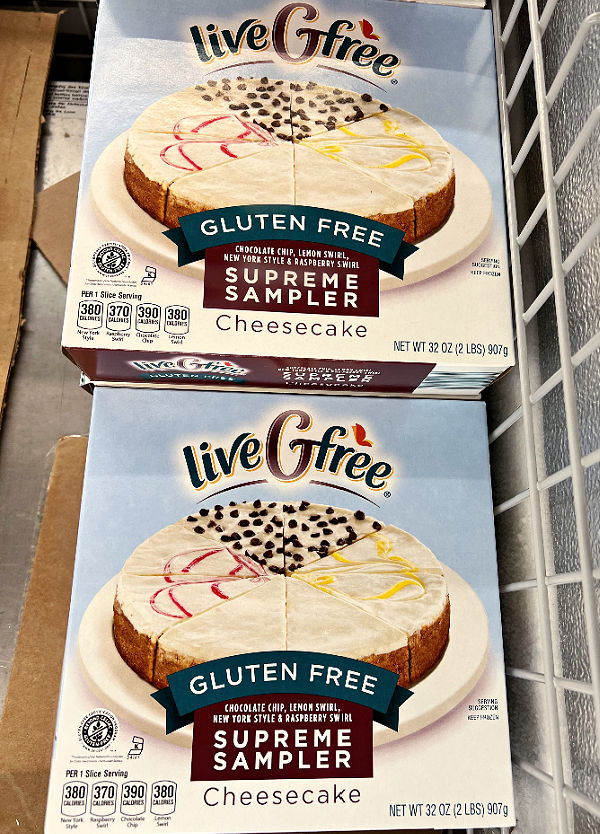 We've seen a number of great new gluten free Finds lately, so don't miss this cheesecake sampler!
Corn-y food Finds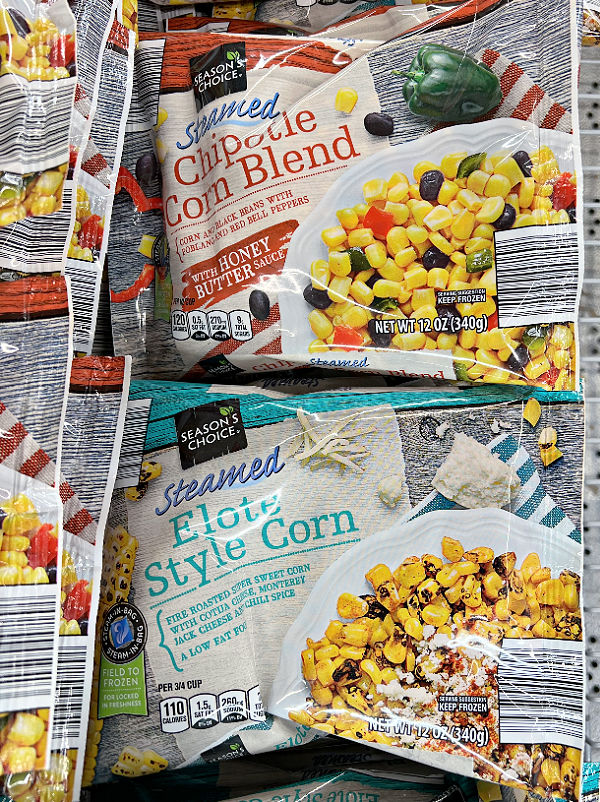 Elote style corn is back this week: Choose from Season's Choice steamed Southwest corn blend or elote style corn, although they're more expensive this time at $2.49 per 12 oz bag.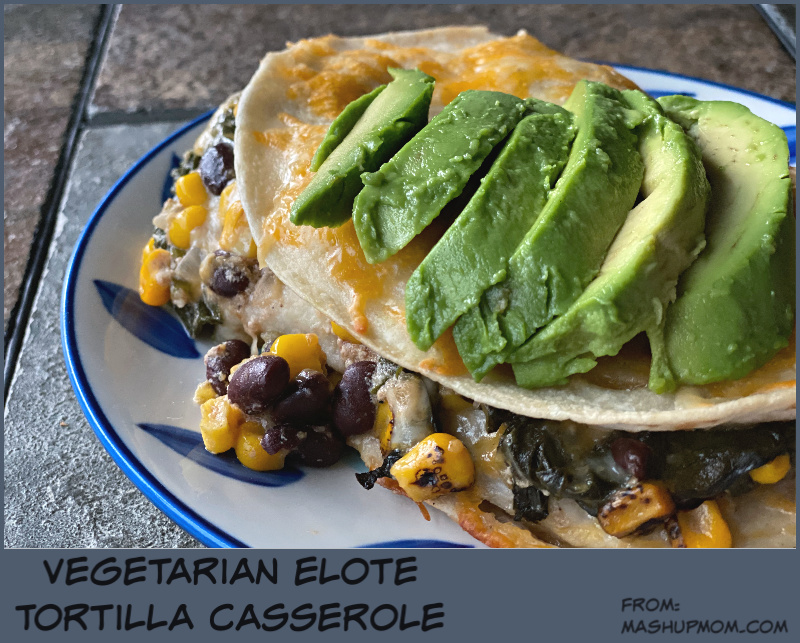 The elote corn is always one of my favorites, because you can use it to make this most excellent vegetarian elote tortilla casserole (y-u-m!).
Then, speaking of corn: Clancy's roasted sweet corn flavored popcorn is also back on the shelf this week, at $2.49 per 6 oz bag.
Top 30 non-Food Finds this week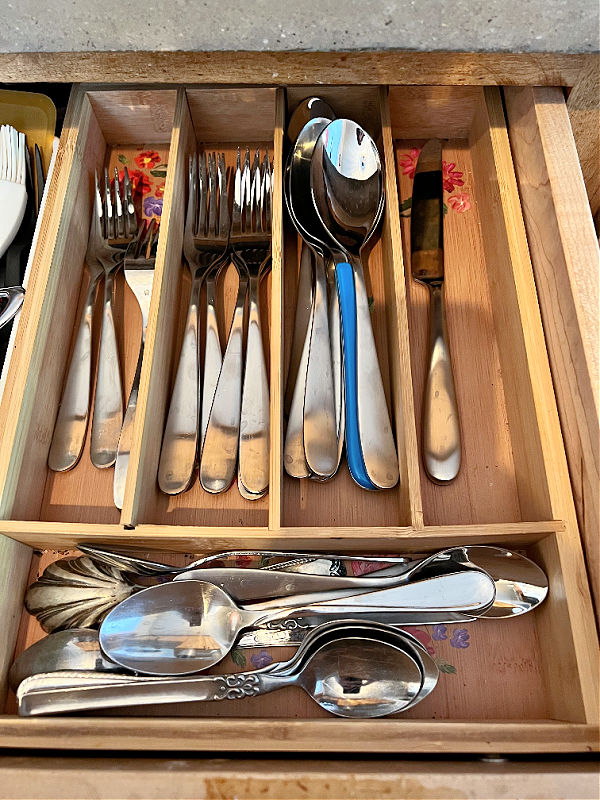 Beyond the outdoor and garden Finds mentioned above, we have some returning favorites mixing in with our new items this week — including Huntington Home bamboo kitchen organizers (up to $8.99 this year). You can also pick up a Huntington Home bamboo kitchen cabinet organizer for $9.99.
I have both the drawer organizer and the expandable spice shelf from a few years back and they've held up well; I'm still using both in my own kitchen today. More non-food ALDI Finds this week include:
Huntington Home stacking shelf, $6.99
Huntington Home over-the-cabinet basket assortment, $8.99
Huntington Home 2-tier rolling garment rack, $16.99
Huntington Home 16-cubby organizer, $22.99
Huntington Home kitchen basket with bamboo lid, $14.99
Easy Home plastic fridge liners, $3.99
Huntington Home open weave water hyacinth basket, $17.99
Huntington Home 50-pack velvet touch hangers, $16.99, or 10 pack no-stretch hangers, $4.99
Huntington Home 4'x6′ boho shag area rug, $49.99
Huntington Home full/queen or king cotton blanket, $19.99, or twin or full royal plush blanket, $14.99
Crofton 30-piece assorted food storage, $6.99
Ambiano triple slow cooker, $39.99, or Ambiano smokeless electric grill, $34.99
Crofton color pop bamboo tray, ceramic canisters, 12-piece resin knife set, fry pan, or olive wood cutting board, $14.99 each
Crofton saute pan with lid, $27.99
Huntington Home modern kitchen baskets, $14.99
Crofton ceramic ramen noodle bowl, $4.99
Crofton 4-quart casserole or 2.3 quart teakettle, $19.99
Crofton mini casserole set, $14.99
Huntington Home artisan glass candle, $7.99, or embossed tin candle, $4.99
Huntington Home spring wreath, $16.99
Lightway 4-pack LED light bulbs, $4.99
Heart to Tail pet rain boots or rain jacket, $6.99
Bendon activity books (including an ALDI SUPER FAN coloring book!), $4.99
ALDI play food market, $39.99
Crane adult clogs, $7.99, or Lily & Dan children's clogs, $5.99
Children's light-up rain boots, $12.99
Adventuridge adult packable rain jacket, $14.99
Serra Ladies' 2-piece PJ set, $12.99
Radiance coconut scour pad or walnut scrub sponge 2 pack $2.89
Easy Home silicone scrub gloves 2 ct, $6.99
Lots of nice organizers this week, if you are doing some spring cleaning and organizing these days…
Keep looking for seasonal Finds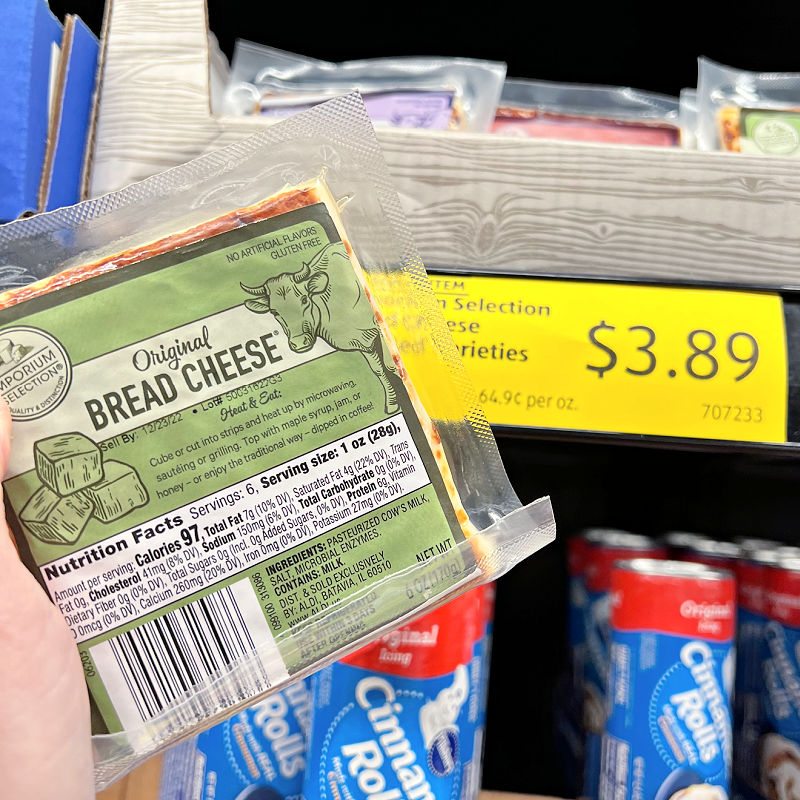 Also keep looking for seasonal spring Finds to keep trickling out into stores. This week I spotted:
Emporium Selection bread cheese, $3.89
48 oz boxes Chef's Cupboard chicken broth, $1.75
35.13 oz Fremont Fish Market frozen seafood boil, $9.99
16 oz Pescatore Seafood Argentine red shrimp, $10.89
See more deliciously fun spring ALDI Finds here, and I'm listing more in these weekly Finds roundups as I run across them. What have you found in store lately?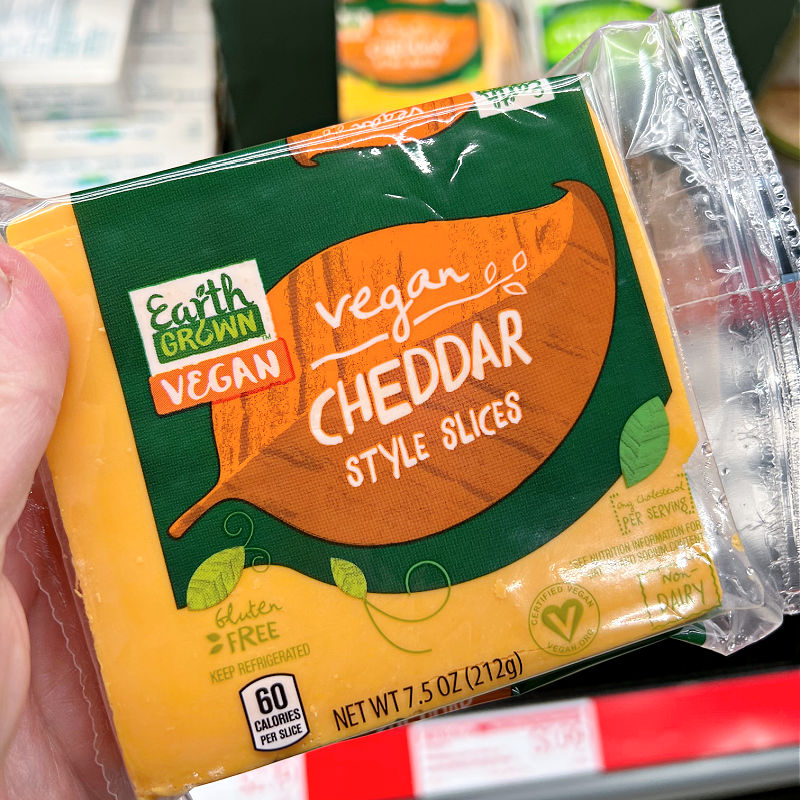 I also spotted Earth Grown vegan cheddar & mozzarella style slices to go on your Beyond Meat burgers. No shelf tag on these at my store, though, so I'm not sure on price or whether they're seasonal or weekly.
What's Up with ALDI Finds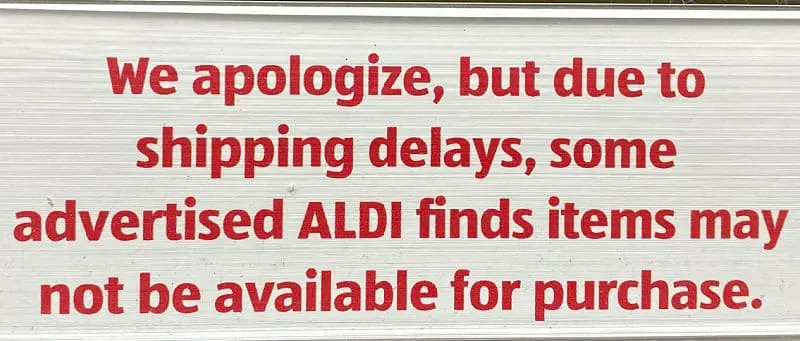 What's up with ALDI Finds? Well, these are limited time special buy items that are available in stores only while supplies last. So if you spot something you like, be sure to pick it up while you can.
Before shopping for new Finds this week, you might wish to visit the ALDI Finds product delays page. Because of ongoing shipping delays and materials shortages affecting ALDI and many other retailers, certain advertised products may not be available in all locations.
Finding the Finds
Where do you Find all of this week's special buys?
Check out the "ALDI Finds" and current weekly ad tabs (or mobile menu choices) on the ALDI site to window shop from home.
If you're planning an in-store shopping trip, use their online ad to help determine what you'll grab and purchase if you do see it in the store.
Products mentioned in this post were either spotted in store or are from the ad starting 5/8/22 in Sunday ad markets, 5/11/22 in Wednesday ad markets. What caught your eye among this week's ALDI Finds?
Related Posts
---
Share this post
---
---