The Best Laundry Detergents of 2020
Posted by admin on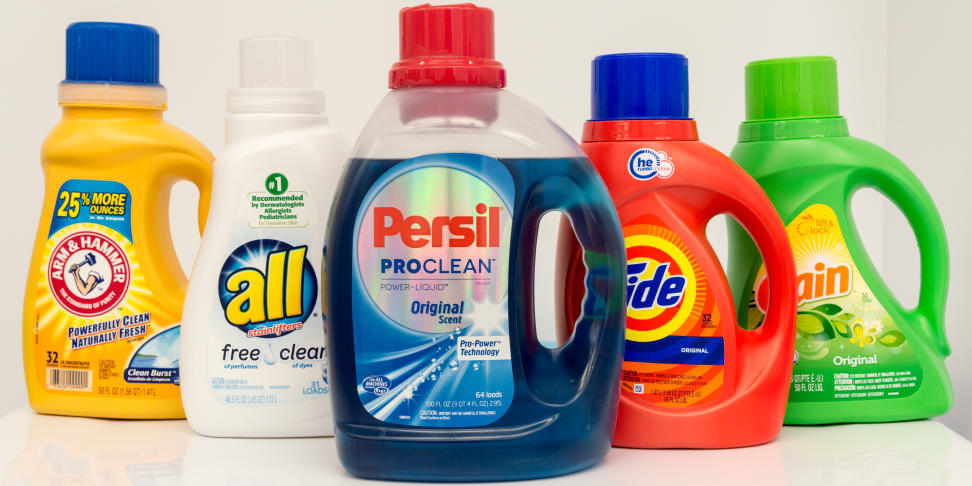 — Recommendations are independently chosen by Reviewed's editors. Purchases you make through our links may earn us a commission.
Americans spend billions of dollars every year on laundry detergents. Most people will buy a detergent that they like the smell of, has features they like or, let's be honest, is on sale. All of this is fine—provided you don't care about getting your clothes as clean as they can be. Our lab tests found some liquid detergents clean much better than others. This extra cleaning power can mean the difference between there being subtle stains left behind on a garment and spotlessness. To find the best laundry detergent, we pitted the top-selling liquid cleaners against each other to see which clean reigns supreme.
We subjected the detergents in this guide to a variety of tests including stain removal, scent ratings, and cost analyses. In the end, Persil ProClean (available at Amazon) came out on top. ProClean had the best stain-removing prowess for removing tough stains.
(If you prefer more environmentally-friendly laundry detergents, we tested and evaluated those, too, and found Tide Purclean is the best eco-friendly laundry detergent.) Plant-based alternatives are a great choice if you're wary of the chemicals found in optical brightening agents.
These are the best laundry detergents we tested ranked, in order:
Persil ProClean
Tide Original
Persil ProClean Sensitive Skin
Tide Purclean
Kirkland UltraClean
Gain Original
Purex
Arm & Hammer CleanBurst
All Free & Clear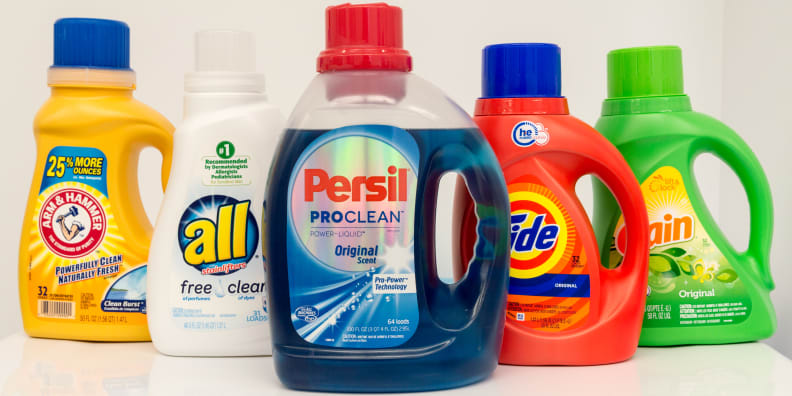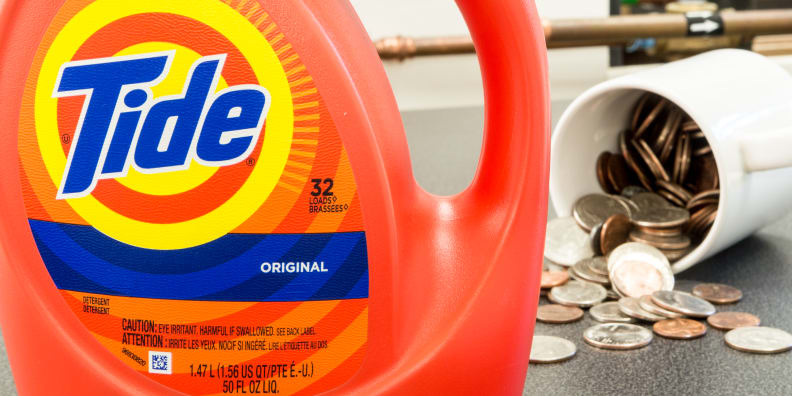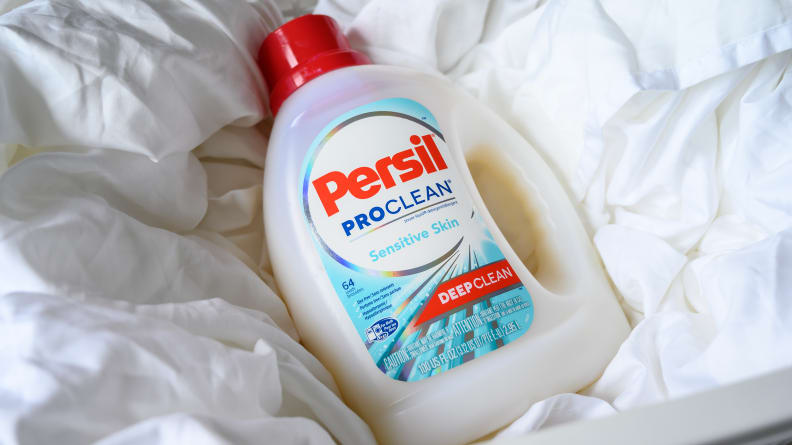 How We Tested
The Tester
Hi, I'm Jon Chan, the senior lab technician at Reviewed. If you use a product to clean your home with, I've likely tested it. Over the years, I've tested dozens of laundry detergents, including eco-friendly detergents and even detergent alternatives. When it comes to detergents, I'm most interested in stain removal and cost-effectiveness.
The Tests
We tested all the detergents on the Maytag MVWC565FW top-loading washer on the Normal cycle with warm water, not hot water. To ensure that our test results were consistent, we used mechanically dyed swatches that are covered in common household substances like sweat, oil, pig's blood, red wine, and cocoa. All stains are carefully sourced, for example, all the red wine is made in the same vineyard and all the blood comes from the same breed of pig.
In addition to mechanically created stains, we produced some stains of our own. We dragged a colleague through dirt and grass to create stained t-shirts and to make things for the shirt even worse, added tomato sauce and fresh red wine into the mix.
We placed our stain swatches into standardized loads of laundry, each consisting of eight pounds worth of pillowcases, towels, and bedsheets. We then repeated this process only, this time, placing the swathes in designated places inside of the washing machine.
After we ran the Normal cycle, we took each strip and let them dry overnight then analyzed them with a photospectrometer–a device designed to detect changes in color. This allowed us to assign an empirical number to how much of each stain the detergent lifted.
A Short History of Clothes Washing
The way that we clean our laundry has changed slowly, but dramatically over the centuries. Where dunking our clothes in the clean running water of a stream or river, beating them on a rock and letting them dry in the sun was once the height of garment hygiene, every once in a while, a shift in how we wash our clothes pops up.
Over the centuries, people have used a wide variety of substances, such as ash, sand, charcoal and even sulfur (you'll get no fresh scent out of that one) to grind the dirt out of their clothing. Sometimes these things would be used together in a laundry cleaning concoction. Other times, when few options were available, the substances may have been used all on their own. Once humanity nailed down the ability to make solid bars of soap, we began using the same stuff we washed our bodies with to also refresh our garments. This worked just fine for generations, right up until the First World War rolled around. During the conflict, Germany's war efforts used many of the components required to make soap to make equipment for soldiers on the front lines. As such, little soap could be found to do the nation's washing up. In 1916, the nation's chemists figured out the chemical means for cleaning clothing and laundry detergent was born.
Once the war was over, a large majority of folks went back to using traditional bars of soap and soap flakes as they had before all the fighting broke out. It wasn't until the 1950s when the use of washing machines skyrocketed in North America, that detergent became a popular product for cleaning clothing.
---
Other Detergents We Tested
More Articles You Might Enjoy
Related Posts
---
Share this post
---
---