NSFW: Hakuna Your Tatas With Optical Illusion Bikinis That Defy Nudity Rules
Posted by admin on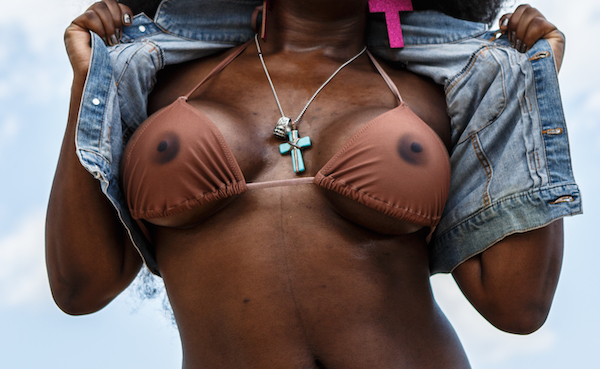 Images via The TaTa Top
Never be ashamed of a nip slip ever again. Wear it loud and proud with these bikini tops that flout social medias constricting
nudity guidelines
.
The TaTa Top was featured by DesignTAXI when the skin-baring garment debuted
back in 2014
, but the company has since been bought over by a journalist and now operates with the goal of celebrating diversity and body positivity. It now has two more shades apart from the original Light Tone.
The
TaTa Top
is made out of an incredibly soft blend of micro-polyester and spandex, ensuring it truly feels as if youre topless.
And because everyone should be allowed to free the nipple, the bikini top is available in six sizes for cups AA through DD+.
The company explains that its not just the free-spirited who are rocking these tops. Its clientele includes mothers and daughters, breastfeeding advocates, censorship protesters, people planning bachelorette parties, and beyond.
For every piece sold, the brand will donate US$3 to its 501 3(c) partner organizations. Since 2014, it has contributed over US$40,000 to goodwill.
View this post on Instagram
Will or will not get censored? By @thetatatop
View this post on Instagram
View this post on Instagram
*when someone tells you to cover up* #TaTaTop #thursdaythoughts . . . . . . #bikini #bikinitop #freethenipplemovement #fuckthehaters #mybodymyrules #madeyoulook #doubletake #doublestandards #wearwhatyoulike #weekendvibes #melaninpoppin #everybodyisabikinibody #beachoutfit #beachlifevibes #vacationoutfit #idgaf #censorship #savethetatas #breastcancersucks #tatathursday #queen #ootd #islandlife #swimwearfashion #swimwearforall
View this post on Instagram
3 sets of boobs #thetatatop #byob . . . . . . . #bikinitop #boobkini #fakeboobs #toplessillusion #gotopless #toplessrights #freethenipple #freethetatas #savethetatas #tittytuesdayy #tatatuesday #mybody #myrules #myrights #feminist #feministfashion #genderlessnipples #tuesdaymotivation #womensrights #goodcause #swimsuit #summervibes #wearwhatyoulike #bodypositive
[via
Uglydesign
, images via
The TaTa Top
]
Related Posts
---
Share this post
---
---