Kim Kardashians Booty Is Now An Attainable Look With Shorts Mimicking Her Butt
Posted by admin on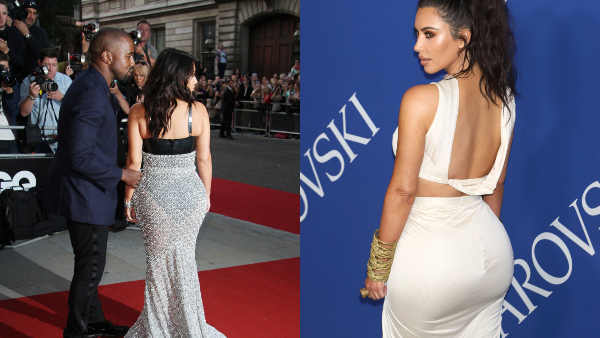 Images via Twocoms / Shutterstock.com and JStone / Shutterstock.com
You might soon be able to effortlessly rock Kim Kardashians enviable tushy without splashing thousands on fillers or implants. Scandinavian concept artists
Ida Jonsson
,
Simon Saarinen
, and
Beate Karlsson
have designed a pair of biker shorts replicating the Kardashians famous derrire to perk up your daily look.
The three, all currently based in New York, flaunted the photorealistic shorts at an Elle magazine event during New York Fashion Week. The flexible silicon bottomwear dubbed The Bum doubles as shapewear, and has been a work-in-progress since 2018.
The Bum
project involved Saarinen and Jonsson studying photos and information about Kardashians backside in order to recreate a true-to-scale 3D variation. Saarinen told the
New York Post
that the socialites physical proportions have changed since they embarked on the well-rounded project.
Later on, they enlisted the help of Karlsson, an alumnus at Parsons and Central Saint Martins, to make the replica wearable.
At present, the shorts weigh at a hefty six pounds and measure at a circumference of 43 inches, but the trio are investigating ways to make the garment lightweight and comfortable for the masses.
The artists hope to start retailing a viable option in limited quantities this spring, and are looking into manufacturing processes in China, Portugal and Brooklyn. It will most likely be constructed out of a blend of silicone, spandex and microfiber.
As for how the crowd reacted to the prototype, Karlsson told The Post that the confusion in peoples eyes was apparent. We were quickly surrounded by a big group of paparazzi who wanted to take pictures of The Bum.
The Bum will not be a budget-friendly piece, and is projected to sell for between US$450 and US$600. Nevertheless, its a steal compared to how much people are paying for cosmetic procedures these days.
Meanwhile, Kardashian fans can check out
The Bum
project, where they can 3D-print the replica as a statue for free.
View this post on Instagram
View this post on Instagram
View this post on Instagram
View this post on Instagram
[via
New York Post
, images via various sources]
Related Posts
---
Share this post
---
---