Future Startup Weekly No. 24
Posted by admin on
Message from our Partner: Global Innovation Challenge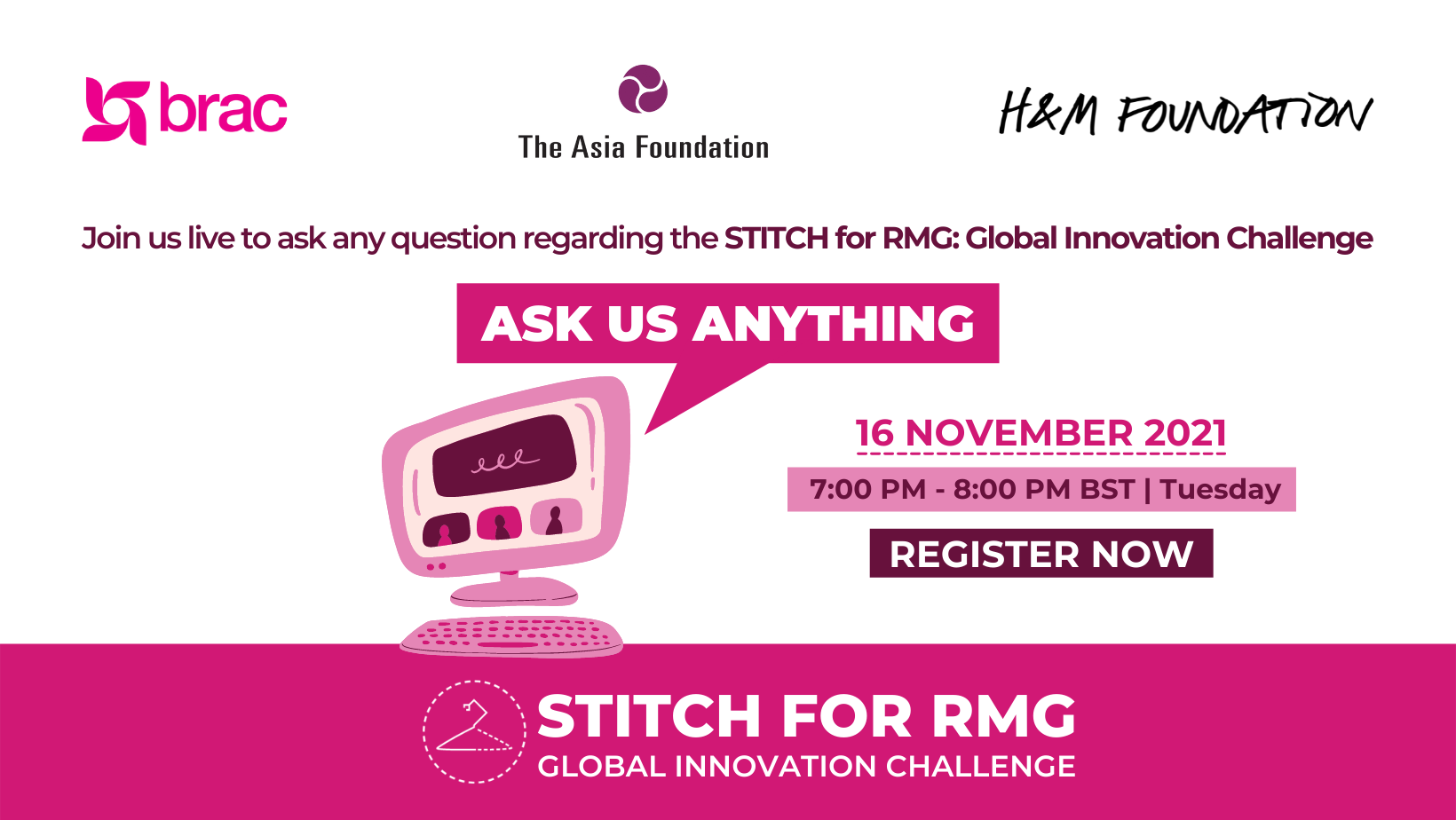 STITCH for RMG: Global Innovation Challenge - ASK US ANYTHING!
BRAC's Social Innovation Lab is coming online to answer any questions regarding the GLOBAL INNOVATION CHALLENGE. BRAC, H&M Foundation, and The Asia Foundation are aiming at advancing women garment workers' welfare and further enabling the Ready-Made Garments (RMG) industry in Bangladesh. The challenge invites ideas to solve these two key questions. Top ideas will receive grant up to $30,000 for pilot execution in partnering factories in Bangladesh.

The challenge is open for all. If you are an applicant, planning to apply, or just want to learn more about it, book your schedule to join the Ask Us Anything zoom session and ask your questions on 16 November 2021, 7:00 PM BST. SIGN UP NOW!
---
SoftBank to Acquire 20% Stake in bKash
SoftBank, the Japanese investment giant, will acquire a 20% stake in bKash, Bangladesh's largest mobile financial services company, per a price sensitive information disclosed by BRAC Bank, the majority shareholder of bKash Limited on Wednesday. The firm didn't share the financial details of the deal. 
BRAC Bank Ltd, in its board meeting, has already approved the relevant share purchase and subscription agreement among bKash, its existing shareholders, and the proposed investor SVF II BEAM (DE) LLC. bKash's existing investors include BRAC Bank, Money in Motion, Alipay, the International Finance Corporation, the Bill and Melinda Gates Foundation, and the bKash Employee Share Option Plan Trust.
The deal, the first such investment by Softbank in a Bangladeshi company, will have to go through relevant regulatory formalities. Link. 
Your Facebook Addiction Maybe Real
Facebook's internal research found that 1 in 8 of its users shows the "compulsive use of the platform," which negatively affects their sleep, work, parenting, and/or relationships. 
The report validates the long-held belief about the potential negative impact of the incessant use of the social networking platform. The study said roughly 360 million Facebook users may have an "internet addiction,". Link.
Three Important Yet Overlooked Success Factors for Early-Stage Companies
We don't have empirical evidence for why some startups succeed while others fail. However, studies suggest several common denominators that separate successful companies from the ones that fail. 
For example, finding product-market fit, which in simple terms means there are customers for the product you are selling. On the other hand, co-founder disputes are among the common causes of startup death. 
If you are into startups and venture building, this is common knowledge. But knowledge is rarely useful unless we understand the context and use them. Link.
Four SaaS Startups to Watch
While the local market remains a challenging terrain for SaaS companies and will take a few more years to fully bloom, a new trend is emerging — a small but growing number of Bangladeshi founders are now building for international customers. Instead of domestic markets, they are eyeing the international markets. This development is further aided by a fast-developing trend where local tech companies are establishing international entities in Singapore and the US for various regulatory and fundraising reasons. 
In our latest episode of Startups to Watch, we profile four startups that are building exciting SaaS products for the local and global market out of Bangladesh. Link.
How Vroom is Building an End-to-End Platform for Vehicle Services in Bangladesh
Vroom started out in 2017 as an on-demand at-home car wash and polish service. It has since expanded to cover almost all vehicle services, including reconditioned cars buy/sell, on-demand wash and polish, maintenance, fleet management, and everything vehicle-related. Today, you can conveniently call Vroom a complete vehicle services platform. Link.
On Building CodeCrafters, Entrepreneurship, and a Good Life With Ellis Miller, Founder, CodeCrafters International
Ellis Miller is the co-founder and Managing Director of CodeCrafters International, a Dhaka-based international technology development company. Founded in 2007 by Ellis and Lynita Miller, CodeCrafters provides customized software solutions to businesses in the USA and other parts of the world. The company maintains a development team in Dhaka, Bangladesh with a U.S.-based sales and support team.
In this beautiful and intellectually empowering interview, Ellis walks us through his early life and experience of growing up in rural Kansas in the US, his journey into the world of software development, moving to Dhaka, founding and building a technology company out of Bangladesh, how his childhood and upbringing has shaped his outlook about life and work, how community, faith, integrity, and hard work define his understanding of a good life, talks about growing a business, team building, culture, leadership, reflects on the importance of valuing people, how our faith helps us keep our center solid and much more. Link.
---
Interesting Ideas 
Building a Multibillion-Dollar Company in 18 Months (with Hopin's Johnny Boufarhat). Link.
Paytm Millionaires. Link.
Career success patterns. Link.
History repeats and its lessons. Link.
Related Posts
---
Share this post
---
---