Future Startup Weekly 25
Posted by admin on
This week in Future Startup:
Ride-hailing drivers and discontent of gig economy
Pathao launches BNPL
Chaldal expands to Khulna
SBK Tech Ventures Partners with SOSV and Miaki, Launches Bangladesh-Focused Seed Accelerator SM²
MoneyGram's bKash integration
Startup in focus
What we are reading
---
Ride-hailing Drivers Want Commission Rate Cut, Discontent of Gig Economy, and the Relationship Between Ride-hailing Companies and Drivers
According to Dhaka Ride Sharing Drivers Union, almost four lakh people are involved with ride-hailing directly or indirectly. The union demands that the government recognize ride-hailing drivers as transport workers. A demand, if met, will change the dynamics of the ride-hailing industry in Bangladesh.
It is important that ride-hailing companies and relevant stakeholders look into this challenge with due importance. Because unless there is a sustainable solution to the discontent of drivers, it will continue to negatively affect all stakeholders involved. Ride-hailing companies will lose business. Users will suffer. For regulators, it will create unnecessary chaos. Overall, the sector will not flourish. Read the full story.
Pathao Experiments with 'Buy Now, Pay Later' Feature, Pathao's Strategic Motivation
Digital services platform Pathao has introduced a new 'Buy Now, Pay Later' (BNPL) feature for top Pathao Food customers. Rolled out on a test basis to a limited number of users, the feature allows select Pathao Food users to choose 'Pay Later' as their payment method to complete orders in one tap.
Each user receives a personal due limit, designed based on a number of factors, which can be spent for 15 days and then repaid in installments over the next 30 days. There is no additional charge or interest. However, a late fee will be applicable for failure to pay on time.
The whole idea behind buy now, pay later is that consumers can shop for things they need immediately while getting a little extra time to pay for them. With the acceleration of digital commerce over the last few years, BNPL has seen explosive growth across markets. Read the full article.
---
Message from our Partner Global Innovation Challenge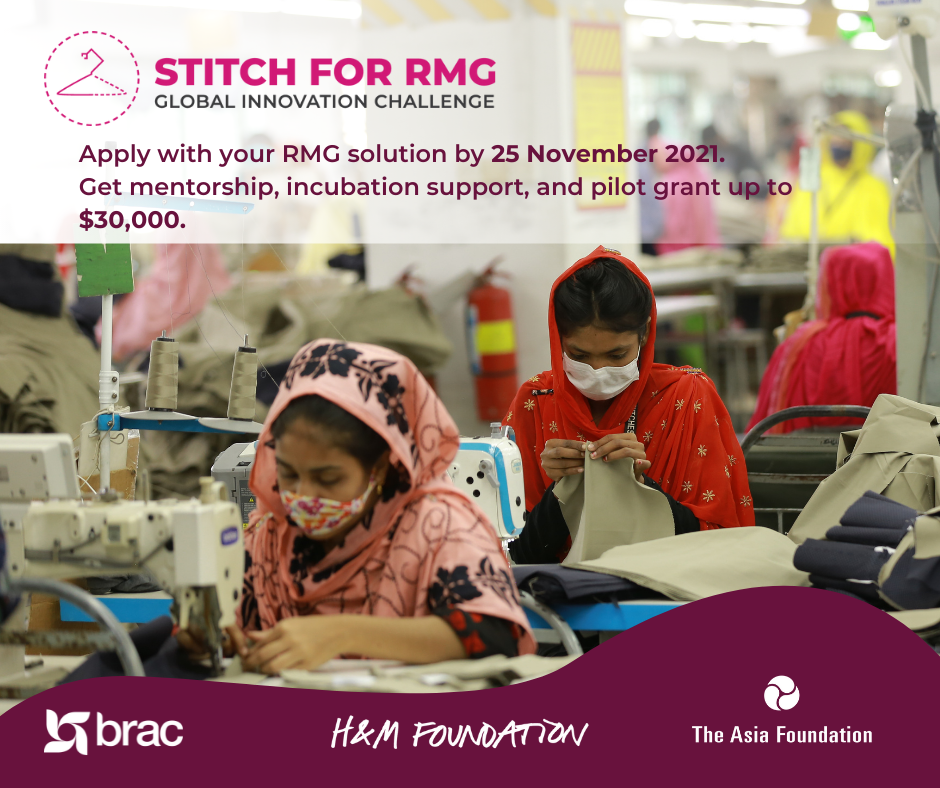 STITCH for RMG: Global Innovation Challenge - Application closes in 5 days!
Only 5 days left to complete applications to "STITCH For RMG: Global Innovation Challenge", a virtual competition co-created by BRAC, H&M Foundation, and The Asia Foundation for sourcing solutions in the Ready-Made Garment industry of Bangladesh.
Innovators from all around the world are invited to submit ideas that improve factory performances as well as benefit women workers, by November 25th at 23:59 (GMT+6). 6 winners will receive mentorship, training, incubation, and acceleration support along with a pilot grant up to USD 30,000.
Watch the ASK US ANYTHING session held by the organizers last week that covers all the details regarding the challenge and application. APPLY NOW!
---
SBK Tech Ventures Partners with SOSV and Miaki, Launches Bangladesh-Focused Seed Accelerator SM²
SBK Tech Ventures, an emerging markets and Bangladesh-focused early-stage technology fund, announced today that it has launched SM², a Seed Accelerator program exclusively for Bangladeshi startups. The program, a collaboration between SBK Tech Ventures, SOSV, and Miaki, will launch its inaugural cohort in November with 3 seed-stage Bangladeshi startups.
Tell me more: SM² is an equity-free 6-month accelerator program with guaranteed investment from the three partners namely SBK Tech Ventures, SOSV, and Miaki.
Each cohort will include 3 carefully selected startups based on the strength of the founding team, scalability, and impact potential.
Selected startups will have access to tools, knowledge from mentors and investors, and networks of investors, subject matter experts, and startups across Asia to improve their chance of success. Read the full article.
Chaldal is Now Available in Five Cities Following the Khulna Expansion
Chaldal, the leading online grocery startup in Bangladesh, has expanded its delivery service of the daily essentials to Khulna. Customers from across Khulna city can now order groceries and essential products such as fish, meat, rice, pulses, fresh vegetables and fruits, baby diapers, pet food, etc from Chaldal and get them delivered at their doorsteps. The company has set up a warehouse in Khulna to ensure timely delivery and excellent customer service.
Previously, Chaldal expanded coverage to Narayanganj, Chittagong, and Jessore. With Khulna, Chaldal is now available in five cities in Bangladesh. The company looks to expand in 15 cities in the coming months.
More to come: In September, Chaldal raised $10 million in a Series C funding round with an ambition to expand across Bangladesh and develop its other product offerings. The company looks to expand the coverage of its on-demand delivery service GoGo Bangla Limited, grow Chaldal Vegetable Network, and launch a direct-to-consumer pharmacy. Read the full article.
In an Effort to Grow its Wallet Network, MoneyGram Partners With bKash, Enabling bKash Users to Receive Funds Instantly From Around the World
MoneyGram International, the global cross-border P2P payments and money transfer company, on Wednesday announced the expansion of its mobile wallet network through the integration with bKash, Bangladesh's leading mobile financial service (MFS) provider.
The integration comes as part of MoneyGram's ongoing partnership with Thunes, a B2B company that powers payments for the world's fastest-growing businesses.
What it means: With the partnership, over 55 million bKash wallet users in Bangladesh will now be able to receive funds through MoneyGram into their bKash wallet instantly from around the world. Read the full article.
---
Startup in Focus: RootsEdu
Founded in 2019, ROOTs covers SSC, HSC NCTB curriculum, and university entrance admission tests. The company says it has completed 350,000+ minutes of live classes and served about one lakh students. In June, the company raised an undisclosed pre-seed investment led by Omicon Tech Ventures.
Unlike other ed-tech ventures in Dhaka, Roots runs on a freemium subscription model where students pay for monthly subscription for accessing whole of its content library instead of paying for just one course.
We interviewed RootsEdu Founder Tahir in August this year. You can read the interview here.
---
Interesting Reads
Real benefit of staying off social media. Link.
Daraz Founder and CEO interview with Prothom Alo. Link
The great organic food fraud. Link
Book: Disciplining Soul by Middle Age Islamic School Ibn Al Jawazi (masterpiece). Link
Related Posts
---
Share this post
---
---