21 Size-Inclusive Brands For A Sustainable Summer Wardrobe
Posted by admin on
Fair Trade Plus-Size Clothing
For sustainable fashion to transition from niche to normal, it's vital that fair fashion be accessible to everyone who wants to engage in it—and that includes thoughtfully made plus-size clothing. For so long, the path to adopting the slow fashion movement was blocked as brands failed to offer inclusive sizes. But not so much anymore! 
This summer, check out these 21 sustainable brands offering ethically made plus-size clothing for the curvy woman, from everyday basics to fabulous formalwear.
Looking to complete the look? Check out our guides to responsibly made shoes and jewelry.
---
1. Universal Standard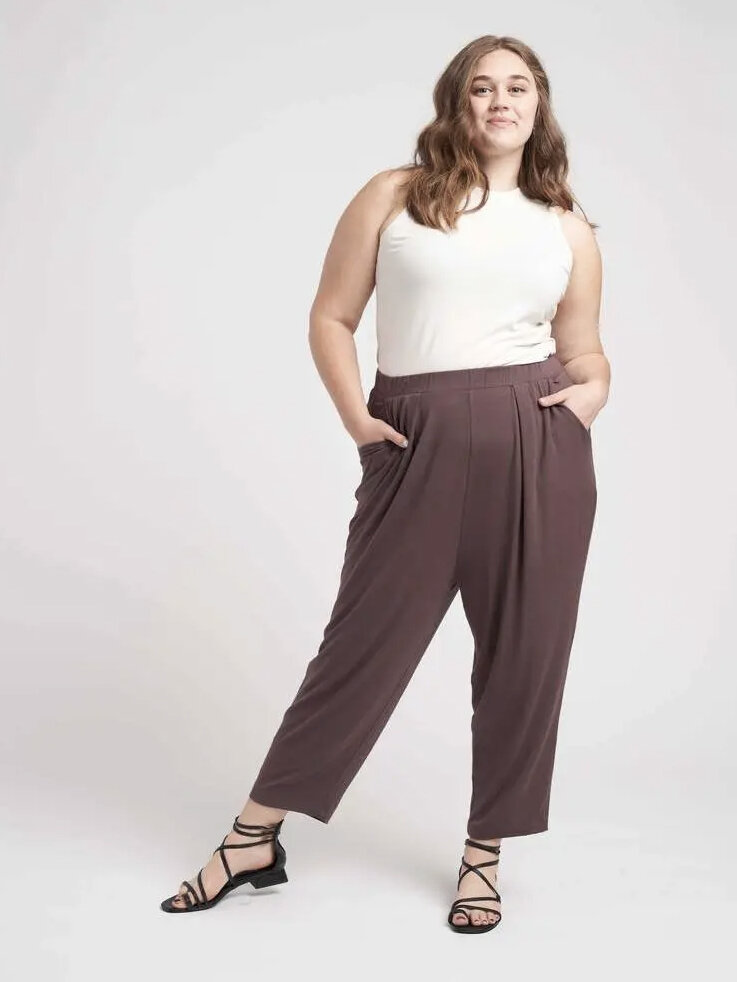 Ethics | Quality materials, fair labor standards, upcycling/recycling, gives back
Best For | Simple, effortless dresses
Price Range | $–$$$
Sizes Available | Up to 40
Universal Standard knows that, oftentimes, the world isn't "made" for women above a certain size—the company also knows that that theory is outdated. So it's crafted the world's most inclusive apparel brand for sizes 00 through 40. And you might need to see it to believe it, but Universal Standard offers a "See It In Your Size" option for each piece so that you have more than just the one frame of reference. Changed sizes? No problem. For up to one year, any pieces from its Fit Liberty Collection can be exchanged for a new size or color.
---
2. Big Bud Press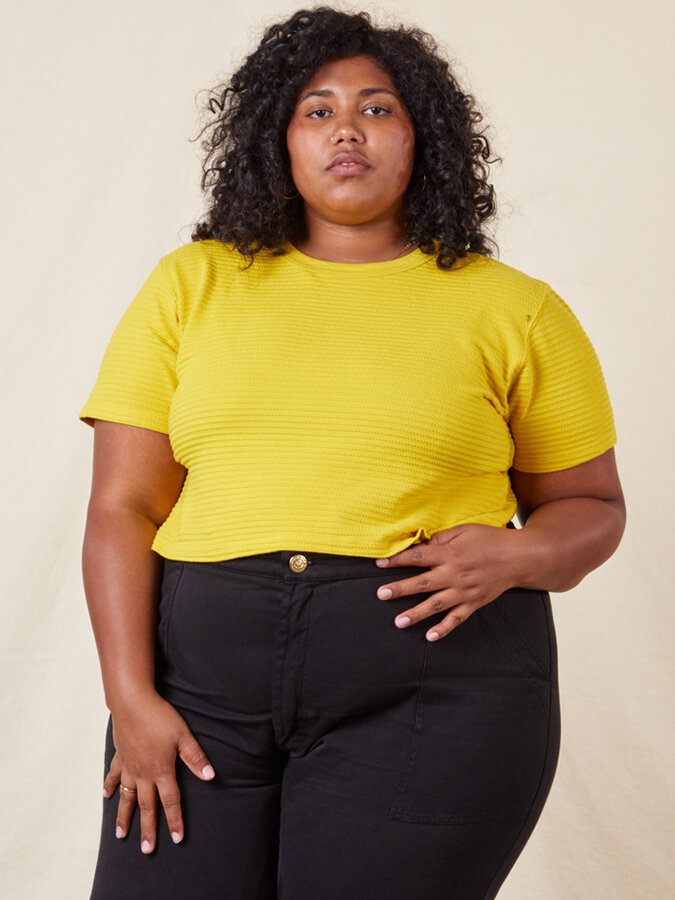 Ethics | Ethically made in Los Angeles, nontoxic dyes, hand-dyed, natural cotton
Best For | Unisex apparel
Price Range | $$–$$$$
Sizes Available | Up to 7X
The Los Angeles-based Big Bud Press gives off good vibes with its vibrant and, dare we say, groovy apparel. Ethically made with local Californian contractors, the rapidly-growing brand specializes in inclusive, unisex everyday wear so all genders can rock custom-dyed trousers or statement jumpsuits. With sizes ranging from XXS through 7XL, this small business is one of the most size-inclusive brands on the list.
---
3. Sotela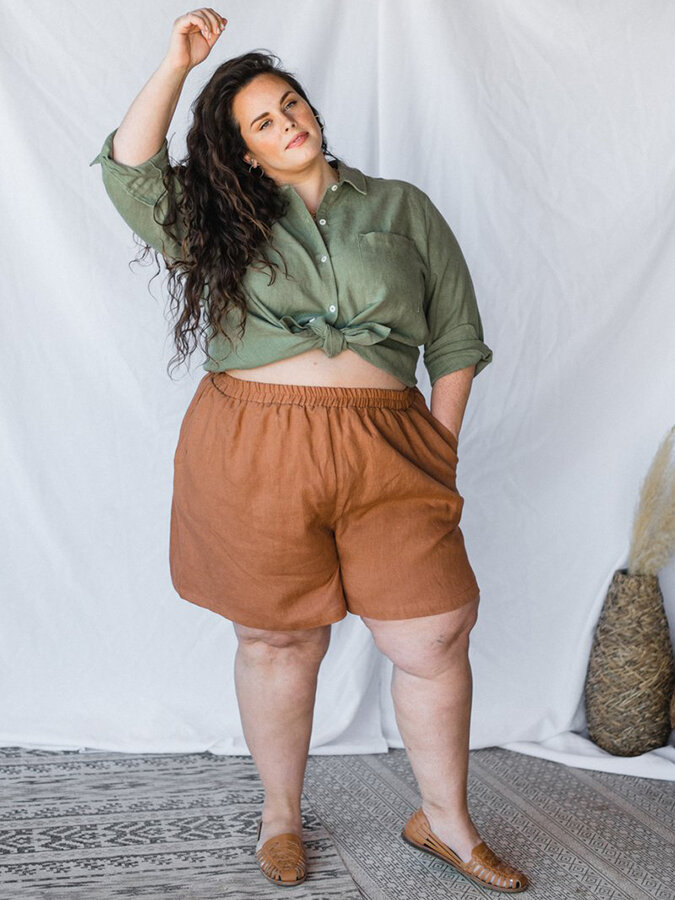 Ethics | Ethically made in CA, natural & sustainable fabrics, made-to-order
Best For | Wrap & crop tops
Price Range | $$$–$$$$
Sizes Available | Up to US 28–30 (See detailed sizing info here)
Our bodies change on a daily basis, and the team behind Sotela wants us to champion that. Instead of being too restricted or too loose, Sotela crafts stunning apparel that's both size-inclusive and flexible for whenever we fluctuate. Ethically handmade in California using natural fabrics like Tencel and linen, it uses non-traditional sizing to promote inclusivity and comfort, rather than complicating our feelings with body image. We're obsessed with the stylish wrap tops, off-the-shoulder crops, and flowy skirts.
---
4. Girlfriend Collective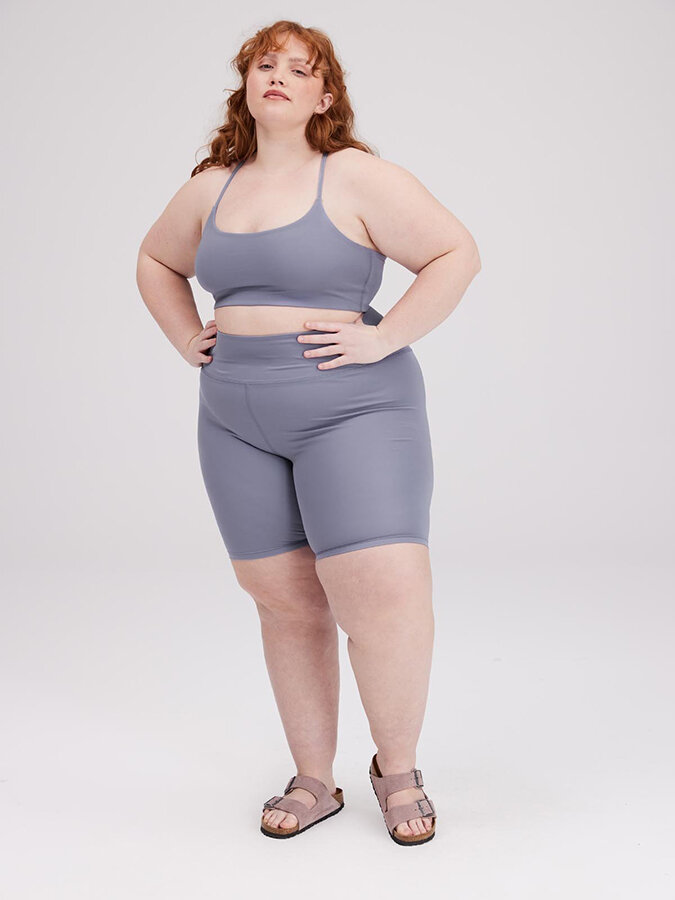 Ethics | Sustainable & recycled materials, SA8000-certified fair production practices, upcycling program, gives back
Best For | Activewear & swimwear
Price Range | $–$$
Sizes Available | Up to 6XL
Girlfriend Collective is a revolutionary activewear brand that's using recycled plastic to create comfortable and durable leggings, sports bras, and swimwear that you'll wear time and time again. The brand's dedication to transparency is clear on the About Page, where you can learn about the entire production process, the factory it partners with, and its fair labor initiatives and certifications. With sizes that go up to 6XL, these pieces are designed to easily go wherever your next adventure calls you.
---
5. Hackwith Design House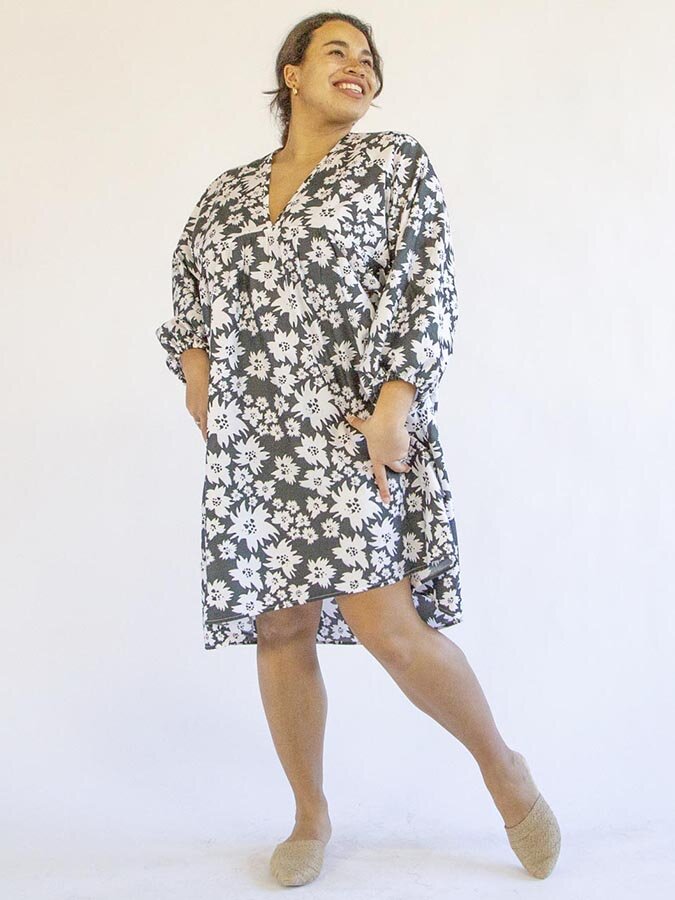 Ethics | Made in the USA, natural fibers, secondhand shop available
Best For | Dresses
Price Range | $$–$$$$
Sizes Available | Up to 4XL
Fusing classic silhouettes with seasonal details, Hackwith Design House, or HDH, treads the line between trend-led and timeless. Determined to support local industry and reduce waste, all HDH products are made in-house at the company's Minnesota studio by its own team of seamstresses. Looking for a statement jumpsuit or minimalist dress you can wear in any season? The extensive plus line has what you're looking for in sizes up to 4XL.
---
6. EILEEN FISHER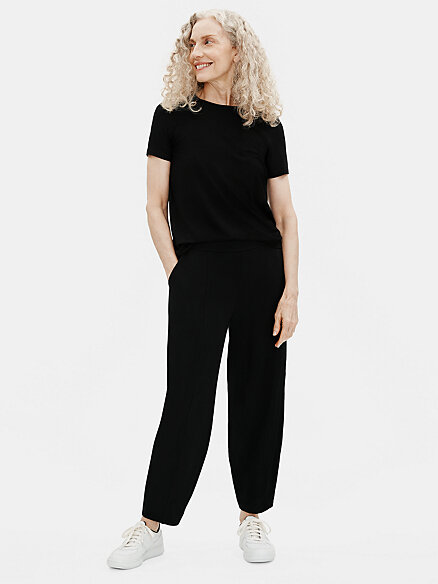 Ethics | Fair Trade Certified collections, sustainable materials & practices, gives back
Best For | Organic linen, cotton, & cashmere
Price Range | $$$–$$$$
Sizes Available | Up to 3X
From sustainable and organic fibers to a squeaky clean supply chain and focus on human rights, EILEEN FISHER's ethical approach is multi-faceted. In terms of aesthetics, expect effortless staples in muted tones. Not content with simply scaling the size range up a few notches, the company has a dedicated Plus collection, which is designed to be flawlessly proportioned up to a 3X. Intentional every step of the way.
---
7. Hours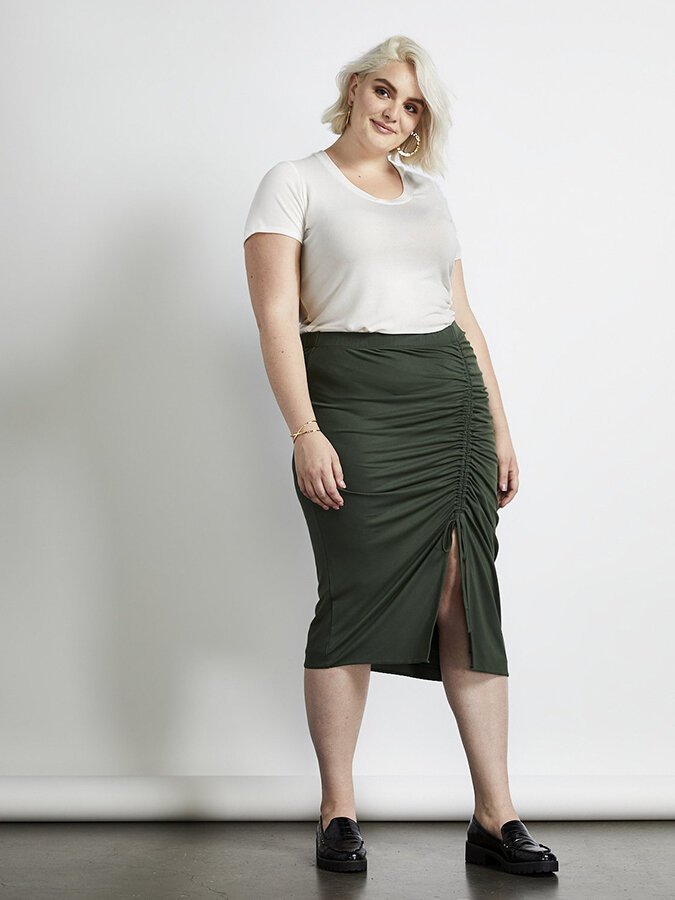 Ethics | Ethically made, sustainable & upcycled materials, eco-friendly practices, plastic-free shipping
Best For | Layers
Price Range | $$–$$$
Sizes Available | 14 to 28
Hours is all about low-impact and high-quality with its NYC-based brand for women, exclusively for sizes 14–28. From simple tees to knit cardigans, there are all kinds of pieces for your ideal capsule wardrobe. It's effortless, made to last, and exceptionally functional because—as Hours remind us—clothes are meant to fit you, not the other way around.
---
8. DL1961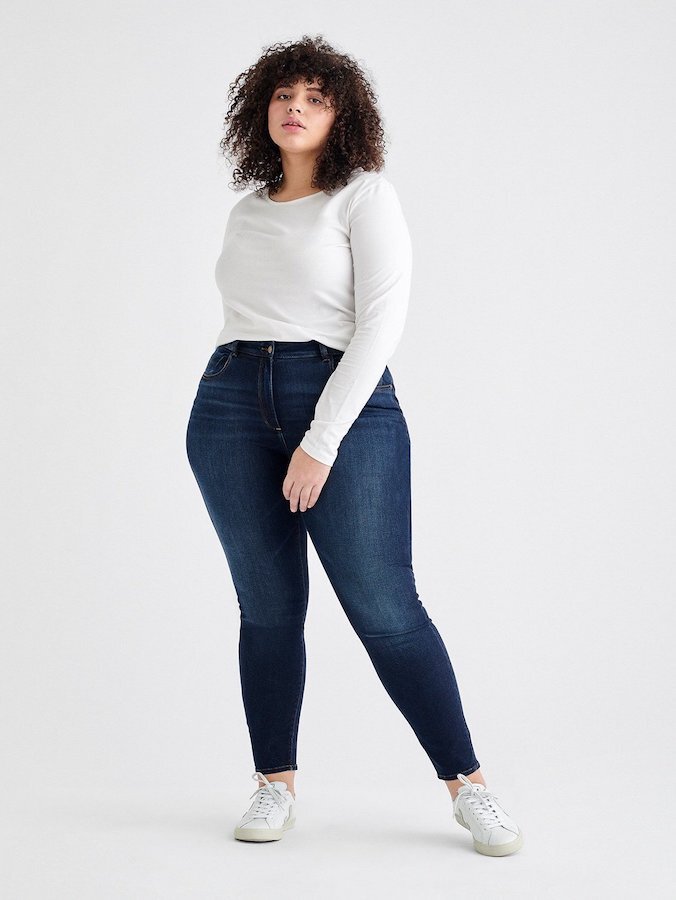 Ethics | Eco-friendly production & materials
Best For | Denim
Price Range | $$$
Sizes Available | Up to 24W
Everyone should have a quality pair of denim that they can turn to at a moment's notice. Enter: DL1961. The expanded sizing includes sizes 14–24W and features striking jeans in multiple washes. The brand uses only eco-friendly fibers and innovative technology like Refibra™ Lyocell to reduce the impact on the planet. Plus, it uses solar power for all the manufacturing. We're excited about this collection and are hopeful that DL1961 will continue to add inclusive sizing across more of its styles.
---
9. IGIGI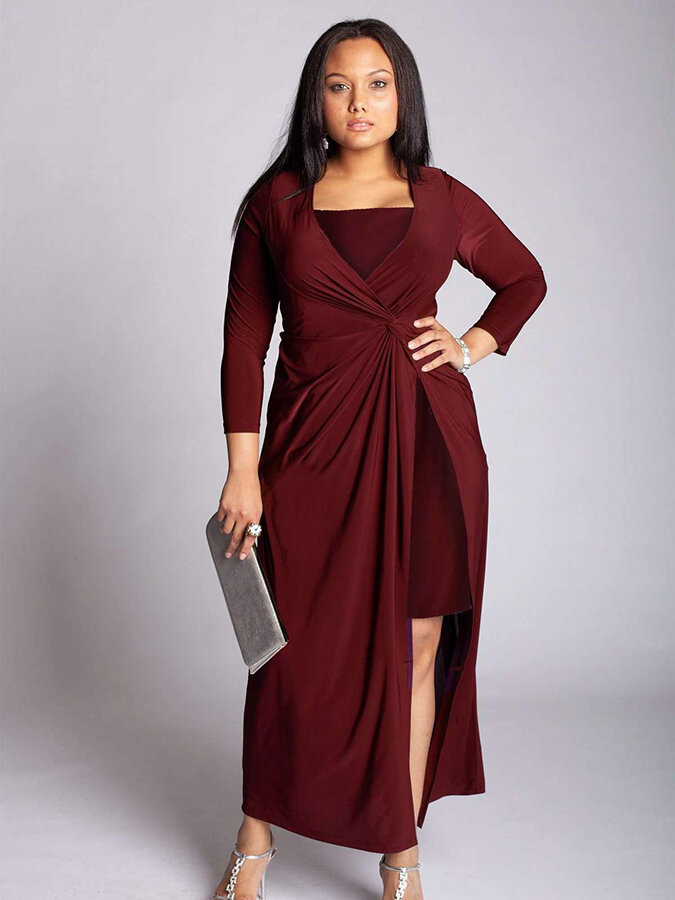 Ethics | Made-to-order in Europe, ethically made by women
Best For | Occasion wear
Price Range | $$$$
Sizes Available | 12 to 36
Named after an ancient goddess embodying vitality, charm, and intelligence, IGIGI designs contemporary clothing that celebrates curves. The dresses range from casual to formal, making them perfect for all occasions. Made in Europe, these dresses add radiance to any woman's look. We love the variety of silhouettes and styles in IGIGI's store—and the fact that it's made-to-order means your favorite style or size will never be out of stock again! Plus, you get to choose your features, like the sleeve length and neckline.
---
10. Hope & Harvest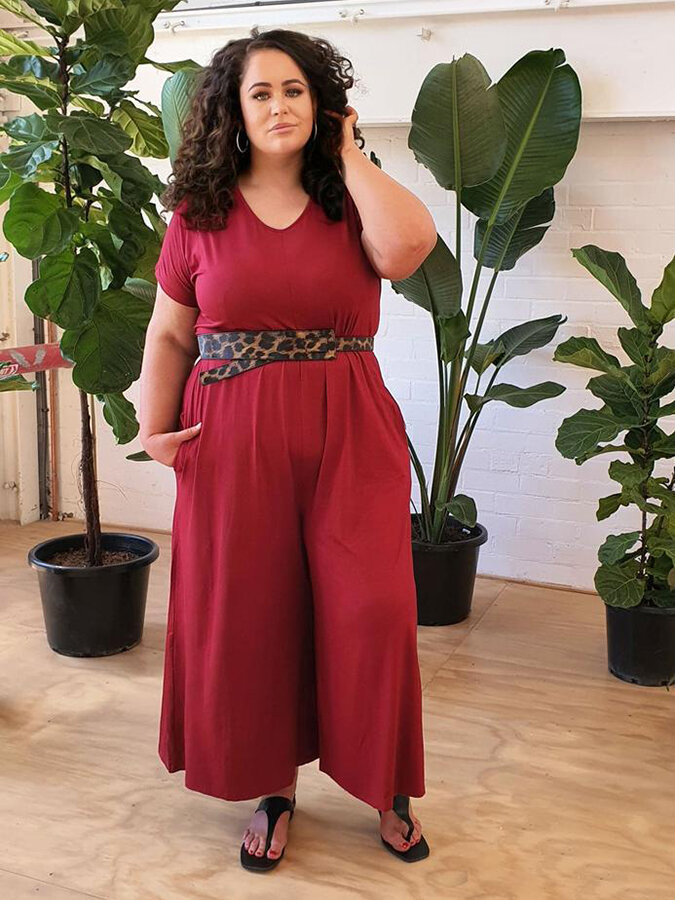 Ethics | Made locally or in small fair trade factories
Best For | Dresses & jumpsuits
Price Range | $$–$$$
Sizes Available | Up to US 22
Australian plus-size brand Hope & Harvest sees sustainability as a core tenet. Not only does it operate locally, the brand's manufacturing also partners with fair trade factories that ensure the wellbeing of its workers (and their families). The chic, on-trend clothes are perfect layering pieces for seasonal capsule wardrobes, including its patterned dresses. Plus, Hope & Harvest offers custom pieces for weddings and special events, as well as consultations if you live near its studio in Melbourne or via Skype.
---
11. Diane Kennedy
Ethics | Ethically made in Canada, eco-friendly, organic materials
Best For | Bamboo knit tops & tunics
Price Range | $$–$$$
Sizes Available | Up to 3X
Diane Kennedy's clothing line emerged when she personally realized a need for sustainable, comfortable, and well-fitting clothing for the plus-size woman. Her classic pieces aim to celebrate every woman's shape. Produced in Canada with eco-friendly and organic knits (that are also custom made locally), these clothes will be the ethical wardrobe staples that you'll love wearing. We love Diane Kennedy's bold and classic basics, modern silhouettes, and luxuriously soft, travel-friendly organic bamboo pieces.
---
12. Alice Alexander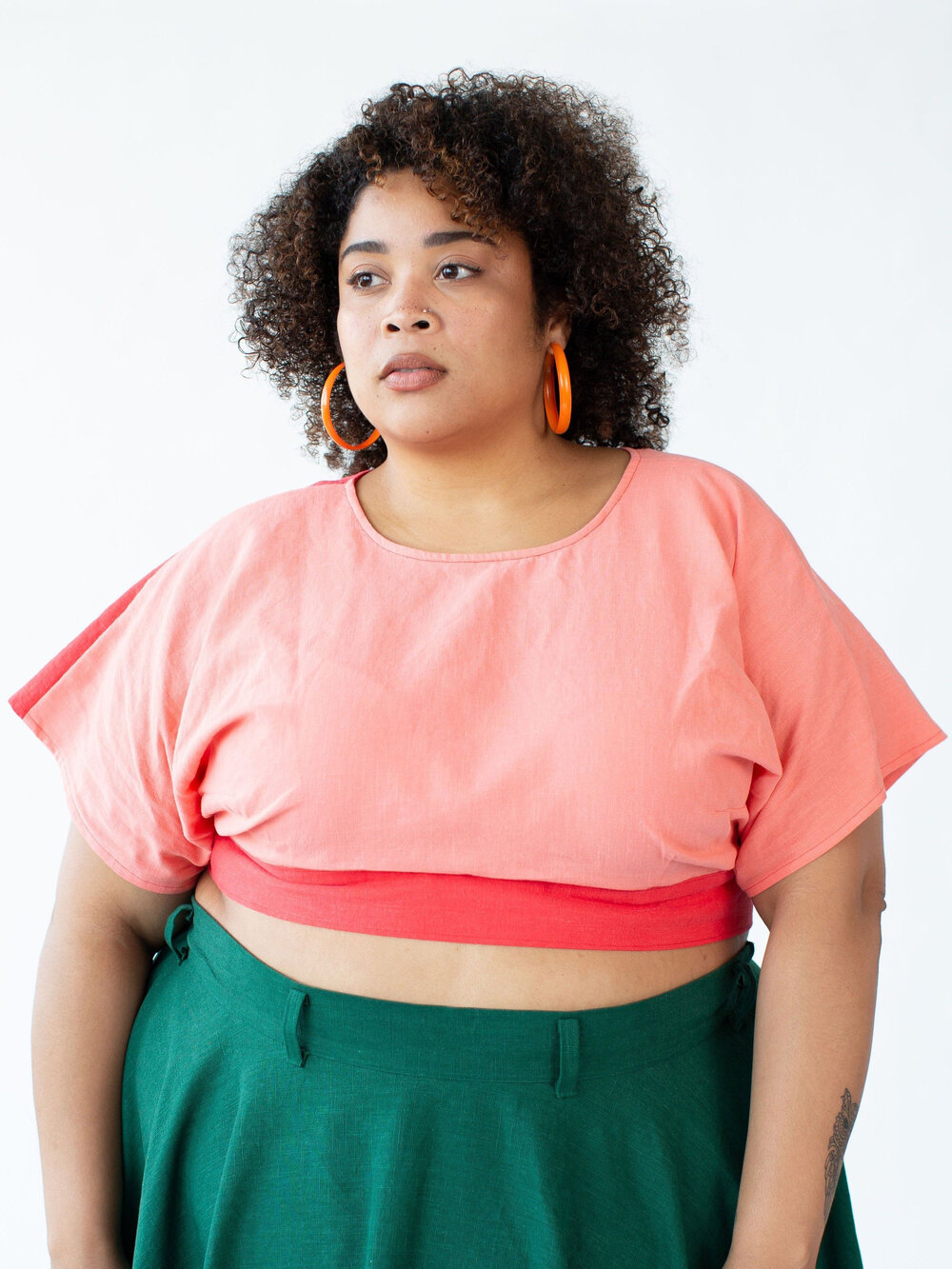 Ethics | Ethically made in US, Portugal, & India, locally sourced & sustainable materials, low fabric waste
Best For | Colorful statement pieces
Price Range | $$$–$$$$
Sizes Available | Up to 30 (5X), additional sizes custom-made at no extra charge
Alice Alexander's whole brand ethos centers around inclusivity—without sacrificing the quality of the clothes or the working conditions of the people making them. Originally launched as a brand for just plus-size women, Alice Alexander pivoted to include sizes 0 through 30 for the sake of not perpetuating the cycle of exclusivity. We especially love its willingness to create a garment just for you at no additional cost if your size is not offered. The colorful designs are modern and perfect for the season.
---
13. Loud Bodies
Ethics | Ethical production, OEKO-TEX certified fabrics, nontoxic dyes, gives back, plastic-free packaging, carbon-neutral
Best For | Dresses & formalwear
Price Range | $$$–$$$$
Sizes Available | Up to 10X; free custom tailoring
Loud Bodies is loud and proud when it comes to their belief that everybody deserves to feel beautiful. This brand offers sizing from XXS through 10XL, and if you have an atypical body type or don't fall within that range, Loud Bodies will customize pieces for you, free of charge. And most items are made-to-order with only sustainable materials, ensuring you get exactly what you asked for—without the added waste.
---
14. Karen Kane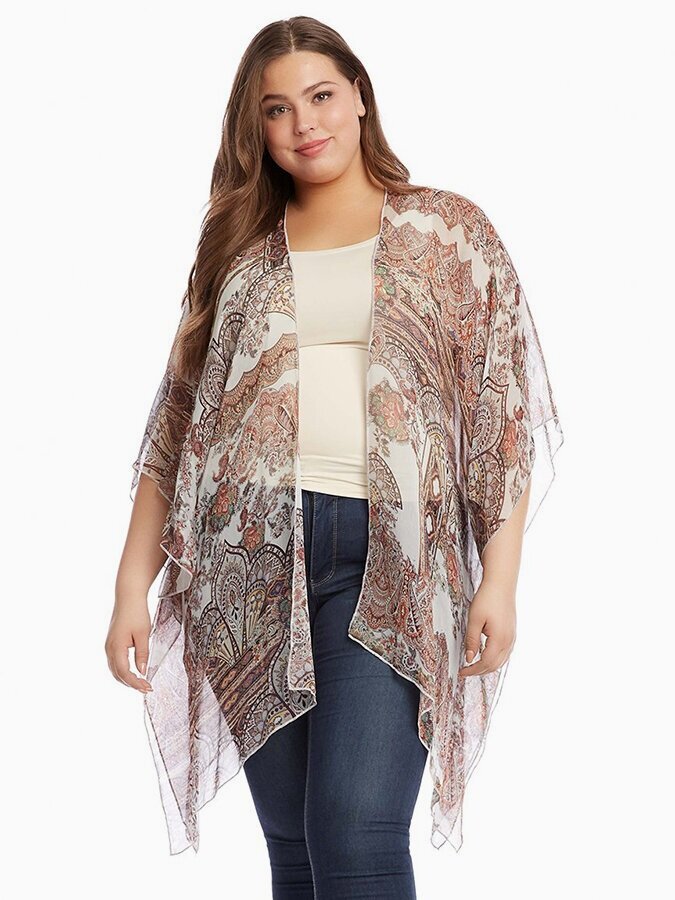 Ethics | Ethical production, transparent supply chain, sustainable materials, gives back
Best For | Tops & layers
Price Range | $$–$$$
Sizes Available | Up to 3X
Guided by respect for both people and the planet, family-run Karen Kane believes "women should feel beautiful and comfortable, always." And it speaks from experience as over 70 percent of the company's management team is women. Using sustainable fabrics (like rayon and viscose made from wood and tree pulp) and with most of the clothing cut and handsewn in Los Angeles, Karen Kane's clothing is feminine and versatile. The Plus line includes everything from dresses to outerwear.
---
15. Kirrin Finch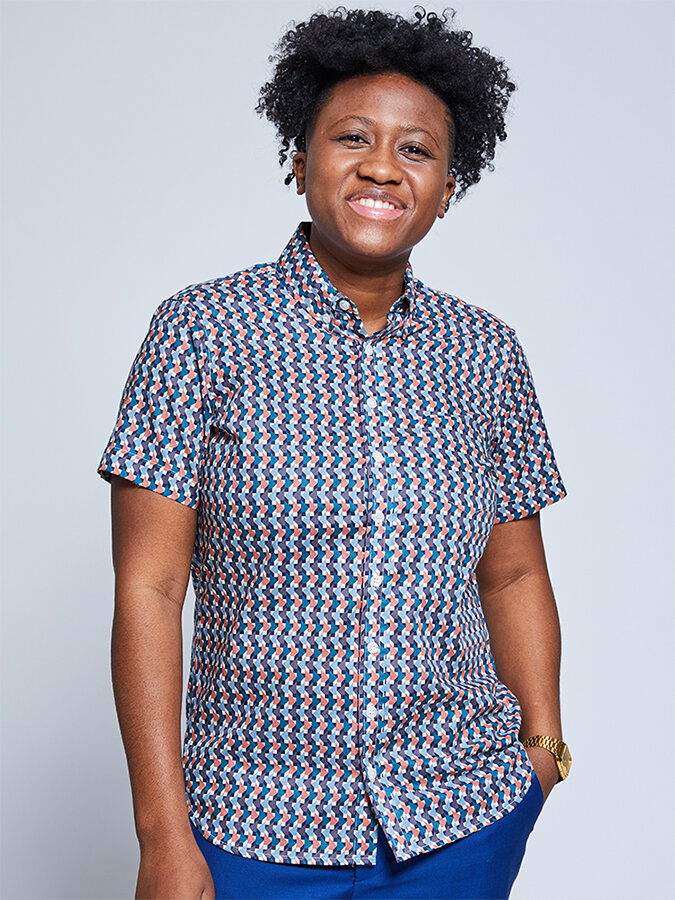 Ethics | Sustainable & natural materials, made responsibly in the USA, gives back
Best For | Menswear-inspired, androgynous & tomboy style
Price Range | $$$
Sizes Available | Up to 24 (3X)
If you're on the hunt for menswear-inspired style made for female and non-binary bodies, look no further than Kirrin Finch! The brand creates dapper, gender-neutral pieces that can be dressed up or down for any occasion, all made from sustainable materials. The team also supports LGBTQ+ organizations through donations and events, and advocates for all gender identities; check out the blog where it features "Dapper Scouts": stylish people who are also outstanding community ambassadors.
---
16. On The Plus Side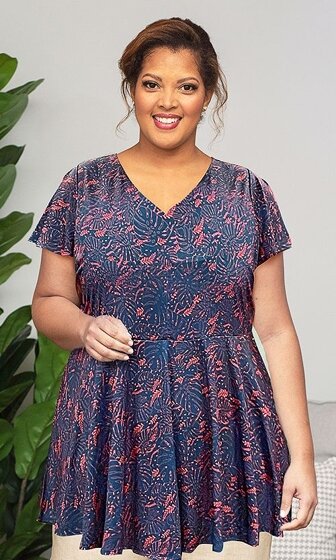 Ethics | Fair labor standards, sustainable practices
Best For | Tops & tunics, swimwear, undergarments
Price Range | $$
Sizes Available | US 22 to 48 (8X)
On The Plus Side is committed to changing the plus-size fashion industry by offering a wide range of stylish clothing designed to fit perfectly. The clothing is manufactured in fair labor environments and is committed to sustainable practices in its production and at its headquarters. Over 90 percent of the clothing is made from eco-friendly, natural fibers, so you can fill your wardrobe with clothing that looks and feels good. We love the range of clothing; from undergarments to swimwear, dresses to denim, On The Plus Side has exactly what you're looking for.
---
17. Loup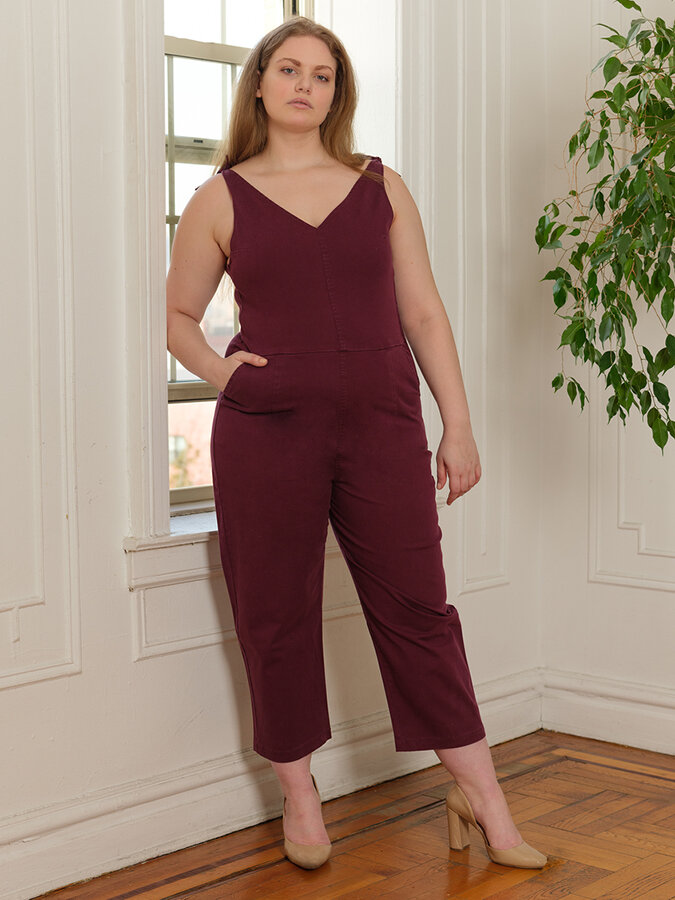 Ethics | Ethically made in New York City, lifetime repairs, natural materials
Best For | Curve-friendly pants & jumpsuits
Price Range | $$$–$$$$
Sizes Available | Up to 3X
Inspired by the likes of Brigitte Bardot and Audrey Hepburn, Loup is a brand combining New York City ethics with Parisian style. Designed and produced locally in the Big Apple, this womenswear brand focuses on curve-friendly clothing, particularly pants and jumpsuits. And don't worry about wear and tear—Loup will help with repairs or offer you store credit for any fixes you paid for.
---
18. The Standard Stitch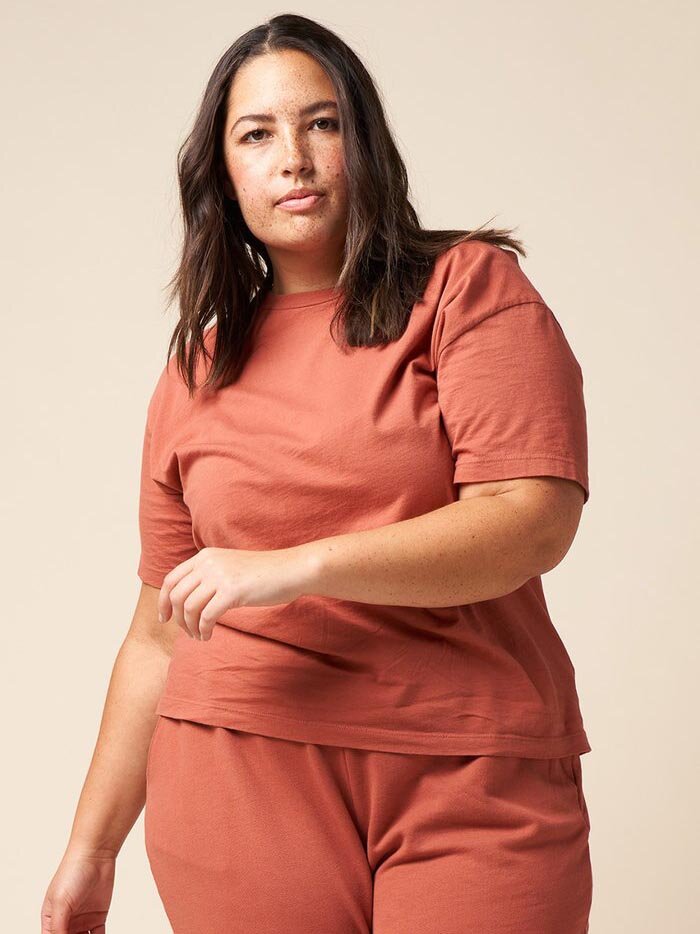 Ethics | Ethically made in Los Angeles, organic & sustainable materials, nontoxic dyes, compostable packaging
Best For | Tees, tops, loungewear
Price Range | $–$$
Sizes Available | Up to 5X
The Standard Stitch's mission is to "create clothes that are as gentle on the earth as they are on your body—every body." And it's achieving just that, with inclusive sizing from XXS to 5X. (If you don't see your size, you can also get in touch!) Its line of tees, tanks, and loungewear are perfect for mixing and matching in our closets, all made with recycled and/or organic cotton. Even the bright colors are achieved using low-impact and nontoxic dyes. Checks all the boxes!
---
19. REI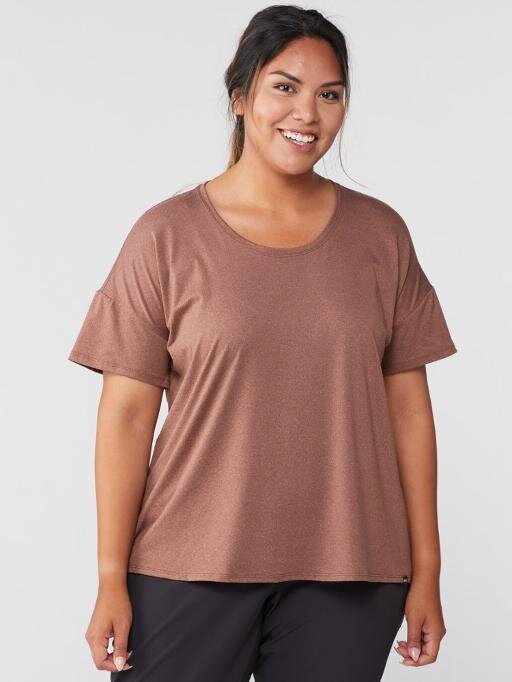 Ethics | Recycled materials, eco-friendly practices, co-op business model
Best For | Outdoor athletic wear
Price Range | $$–$$$
Sizes Available | Up to 3X
For more than 80 years, REI has been passionate about making sure everyone can experience the great outdoors with its gear. Now, with more than 13,000 employees across nearly 40 states, the REI team operates as a member-owned co-operative, which means the majority of its annual profits are given back in dividends to members, employees, and nonprofits. In addition to REI's own products, the shopping platform also carries inclusive apparel from brands like prAna and The North Face.
---
20. Levi's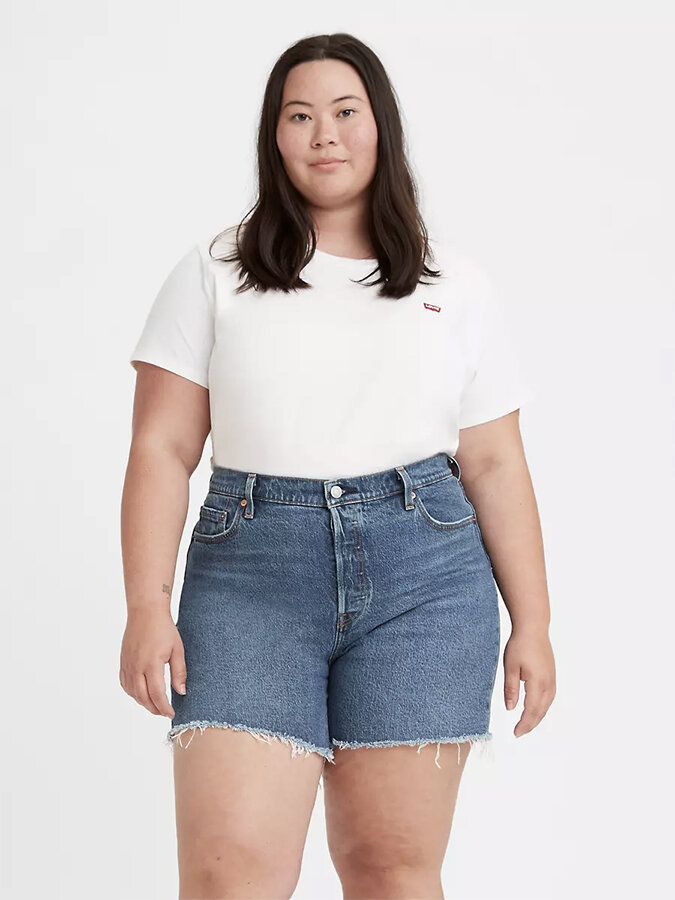 Ethics | Ethically made, sustainable practices & materials, gives back, secondhand shop available
Best For | Denim jackets
Price Range | $$–$$$
Sizes Available | Up to 4X
Levi's is about as American as they come, which means it'll fit everyday Americans always. With sizes up to 4X, the denim jeans and jackets are available for the whole family to rock. Made with responsibly sourced cotton and Lyocell or even recycled denim, the brand has made the move over to eco-friendly practices like reduced water consumption. No matter your style, you can find inclusive, sustainable denim here.
---
21. Alder Apparel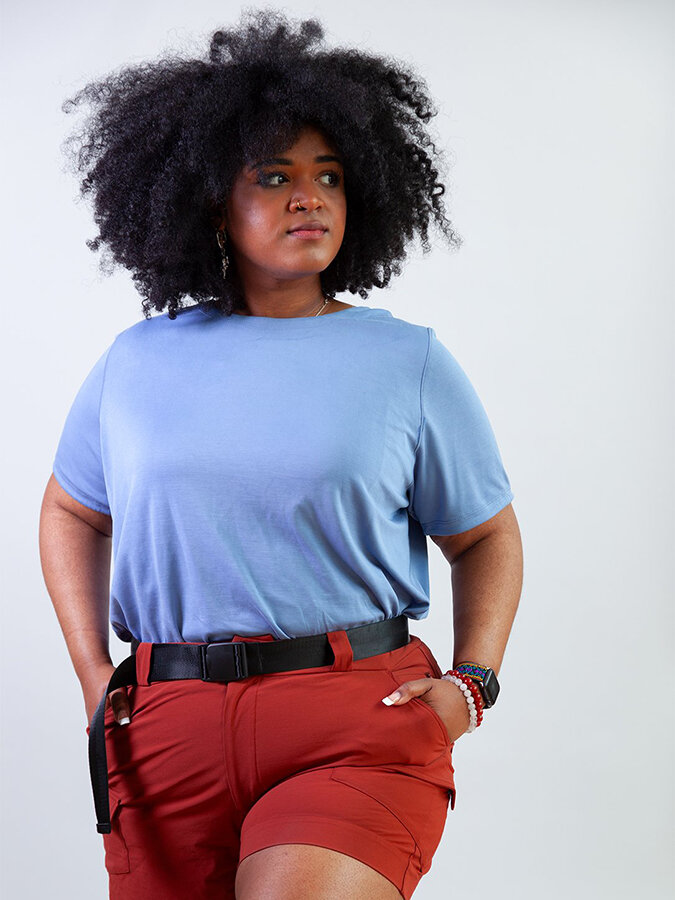 Ethics | Ethically made in Indonesia, sustainable & recycled fabrics, recycled labels
Best For | Outdoor essentials
Price Range | $$–$$$
Sizes Available | Up to 6X
Alder Apparel is challenging what it means to be outdoorsy—and who's reflected along the way. Aiming for more inclusivity, diversity, and sustainability, this outdoor apparel brand offers six pieces through 6X that fit just right. Best of all, the fabrics used are about as sustainable as they come, including Lenzing modal, recycled polyester and nylon, and even recycled labels. "Take a hike" and "be free" with these aptly named pieces.
---
A 30-second newsletter delivered to your inbox each morning with tips for self-care and sustainable living. 🌿 Join over 200,000 readers who start their day with something good.✨
Thank you! Check your inbox for a confirmation email. Xx
---
The Good Trade editors endorse products we genuinely love. If you end up making a purchase through one of our affiliate links, we may earn a commission. Learn more here.
---
RELATED READING
Related Posts
---
Share this post
---
---