Summer Camp at Home in Arkansas
Posted by admin on
Dear Arkansas Parents whose children's summer camps have been canceled, or who have simply decided against sending their child this year:
You have landed at a safe place.
Look, I understand this isn't actual summer camp. We've made it through schooling-at-home and shutdowns and closed stores; I bet we can pull ourselves up by our tough Arkansas bootstraps and continue to carry on as we maintain social distance and due diligence during a pandemic. With a collection of ideas on my part and a handful of ingenuity on yours, plus a dose of the creativity only children can deliver, we'll get through this.
Summer Camp Adventures Without Leaving the House
The best news is that for these at-home camp ideas, there's no summer session limit and very little cost. Many of the activities here won't require any purchases, a few might require some. Do what works for you and your family. I'll be at home doing the same with mine.
Create a makeshift smash ball court
A smash ball area bordered on one side by a house or fence can be enclosed on the other with any number of large objects. Since smash ball doesn't require a large space, it's perfect for small backyards. My boys have used a wheelbarrow, their bicycles, the trash container, garden buckets and a couple of cinder blocks to contain the fast and frenzied action that comes with this game. It's not fancy, but it sure is fun.
Keep up traditional enjoyment with Nerf and water guns
Classic toys that continue to stand the proverbial test of time. The foam-flinging, water-shooting triggers allow for healthy competition and creative strategy among siblings and still provide hours of the kind of wild fun that keeps children outdoors all day. For some real camp-like competition, join in with the children, divide your family into teams…and conquer. Don't forget to grab a couple of buckets for foam darts or water.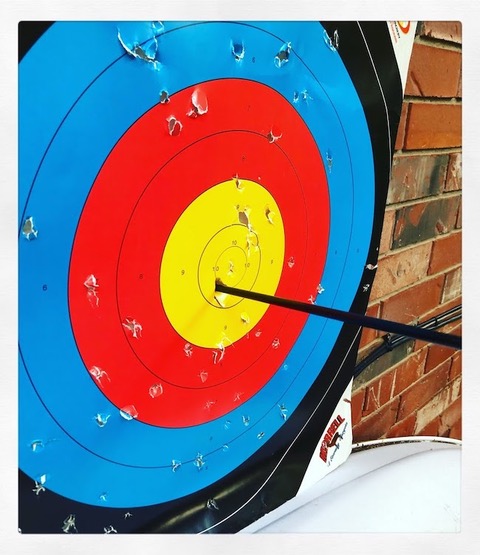 Take aim with archery
A couple of bows, a few arrows, a bullseye target, and a few yards of space: archery practice offers a simple adventure as a competition with others, or just practice for one child. No need for a camp tutorial: check for videos and child-appropriate instruction online. If you're confined to a small yard at the house, head to a large local play area or open public park where keeping appropriate physical distance, and a buffer for wayward arrows, is possible. (And take it from a mom with three boys: do go over the basic rules of not pulling back your string while a brother is walking past.)
Arkansas Archery reading & resources:
Arkansas Game & Fish Commission/National Archery in the Schools Program
National Archery in the Schools Program video
Organize a family field day
Depending on the size of your family, activities could include any or all of the above and other games set up with materials you already have at home:
Individual obstacle course
three-legged race
egg toss
relay race
juggling competition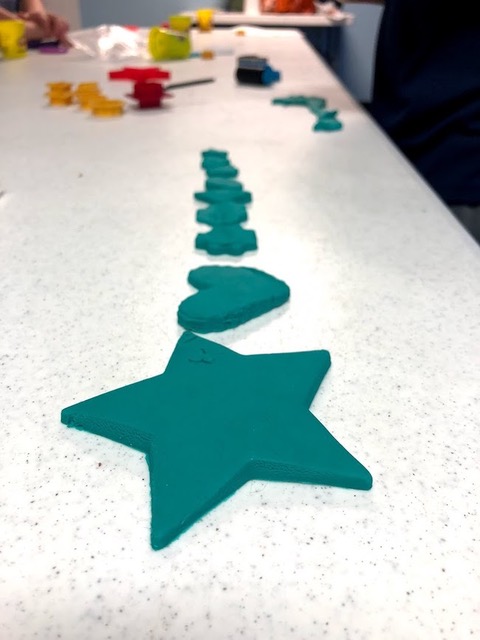 Create a museum of homemade treasures
Start this activity by setting up a center for arts, crafts and invention. Cover a big table or floor area with newspapers or a tarp. Lay out art or recyclable materials available for children to use. Of course, the options are endless:
toilet paper and paper towel rolls
random pieces of cardboard or cardboard cut from cereal boxes
straws
toothpicks
wood kabob sticks
dry beans
dry rice
foil pie pans
aluminum foil
waxed paper
fabric scraps
cylinder potato crisp containers
paper bags
watercolors
paints
clay
chalk
crayons
markers
glue
tape
yarn
rope
string
For outdoor invention and crafts, grab a toolbox with basic tools, adult supervision and:
scrap wood
sanding supplies
nails
screws
wood glue
outdoor paint
wood stain
Use these materials and anything else you come up with to create sculptures, inventions, paper airplanes, paintings, toys, tools. Host an evening where the children get to show off their exhibits.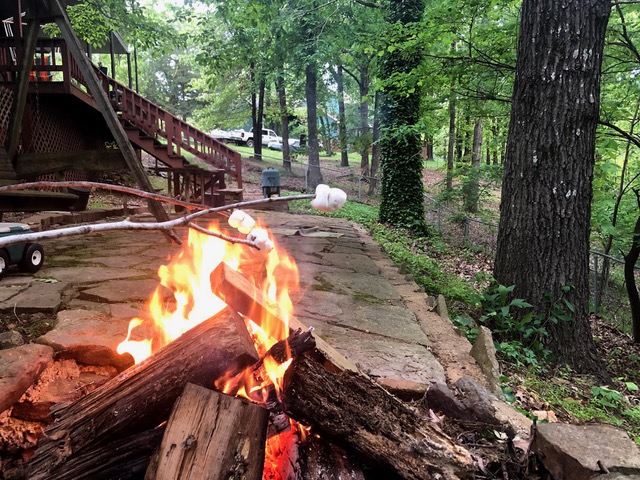 Cook over (even a small) fire
This can be a small fire pit on a back porch or a fire grill that's been opened up in a local park. Even if we can't have the same large-group experience, we can still eat the same traditional camp food. Hot dogs, roasted marshmallows, doughboys: there's nothing like the taste of camp.
Sleepaway…in the backyard
A simple, traditional, low or no-cost adventure. Supplies: a tent, a tarp or perhaps just a sleeping bag and a couple of flashlights. Electronics are prohibited, conversation is optional and snacks after bedtime are allowed.
Model contentment and creativity for children, then allow plenty of outdoor time and unstructured play
The children are watching us. Even if we're not participating in organized summer camp, we're fortunate in The Natural State to have scenery and resources for recreation and adventure. Arkansas National Parks are open with some restrictions and procedures. Kayakers and boaters and fishers who are abiding by recommendations are welcome on Arkansas lakes. With caution and a bit of discipline, we can take walks and ride our bikes, hike and climb on the state's trails and in the woods and hills.
If your family is able to access online resources and you would like to add structure in with the mix, explore the educational Arkansas virtual summer camp options offered:
Via Only In Arkansas.
Related Posts
---
Share this post
---
---